Stretching the boundaries of materials
Finalising the research programme 'New Horizons in Designer Materials' (2016-2019), the 4TU.Research Centre High-Tech Materials (4TU.HTM) has published the book Stretching the boundaries of materials, Six projects of the 4TU.HTM programme 'New Horizons in Designer Materials'.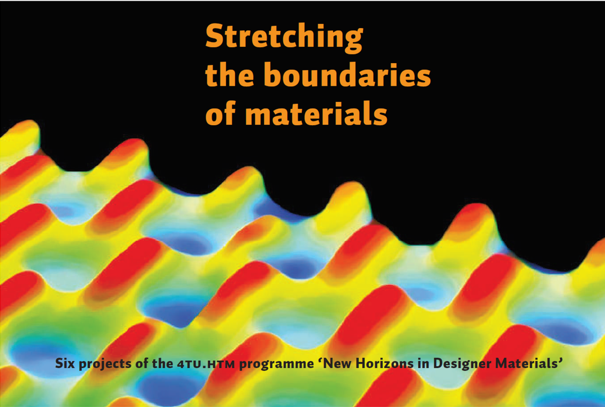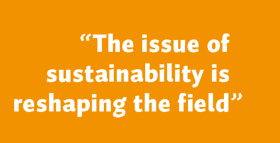 The 4TU.HTM research programme New Horizons in Designer Materials (2016-2019) was set up by the 4TU.Federation, a collaboration of Delft University of Technology, Eindhoven University of Technology, University of Twente and Wageningen University & Research.

In this book materials scientists look back on their research projects and explain the highlights of their work. The goal of the research programme was to develop new topics in materials science into research areas at the Dutch universities of technology. The programme provided an opportunity for fundamental curiosity-driven research.
The book contains interviews with prof. Jilt Sietsma, scientific director of 4TU.HTM, the coordinator of the research programme and the researchers of the six projects, discussing the research field of materials science and its relevance and summarising the research programme in comprehensible terms, aiming at an audience who are not necessarily materials specialists. Numerous examples show how diverse materials research is and how essential materials are for tomorrow's society. Prof. Jilt Sietsma highlights the essence of materials science in the introduction of the book: "Whether it is nanotubes or polymers, materials are key to the next generation of technologies. (… ) More and more people now understand that materials play a key role in solving the complex challenges that are facing society due to for example greenhouse gas emissions, fossil-fuel and resource scarcity."
The six projects highlighted
Below, each of the six interviews in the book has been highlighted.
Can robots get goose bumps?
Dr. Danqing Liu about 'Communicating Surfaces'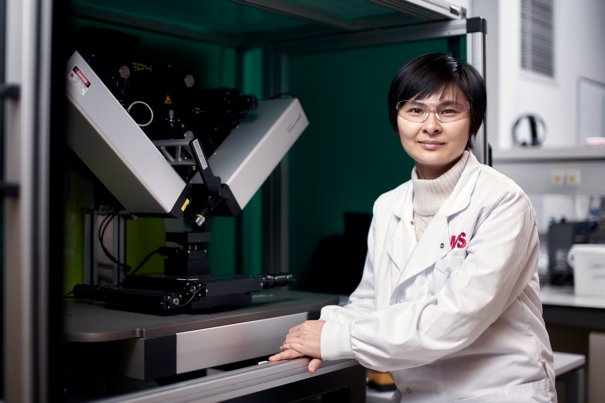 Photo: Danqing Liu (by Ernst de Groot)
The objective of the project 'Communicating Surfaces' was to develop a polymer surface that safely and in a controlled way converts electrical signals into tangible surface patterns. The potential applications are manifold. In this interview, Danqing Liu (Eindhoven University of Technology) shares her visions: programmable braille, tactile keys on touch screens and self-cleaning surfaces, for example, to help keep the Mars Rover's solar panels free of dust. The communicating polymer layers developed by Danqing can become an attractive interface between man and machine or even between robots, useful in robotics. 
Read the interview on page 12 of the booklet  >>
Shedding electrons on the formation of hybrid designer materials
Dr. Joe Patterson & Dr. Mohammad Moradi about 'Structure Formation'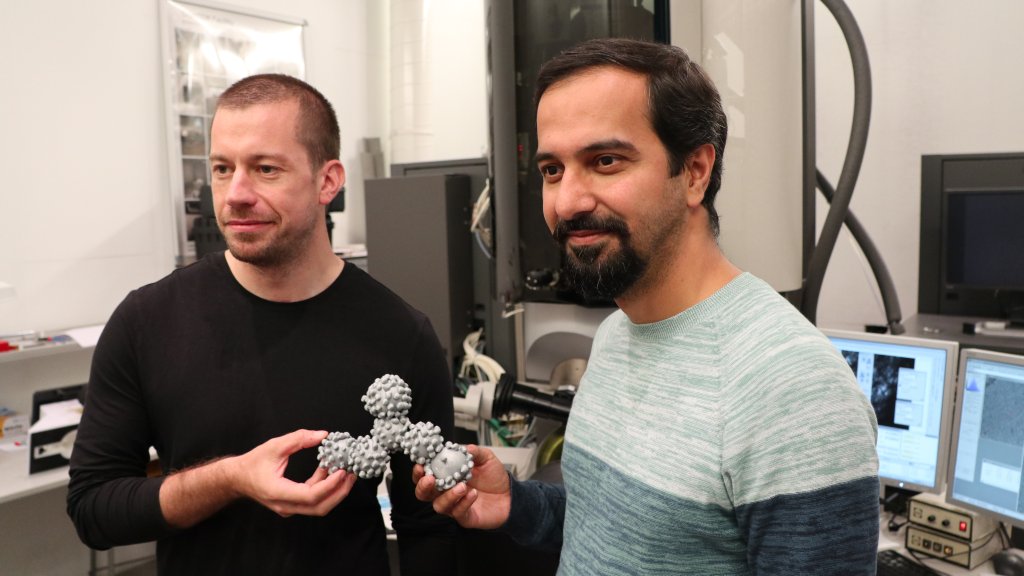 Photo: Joe Patterson & Mohammad Moradi (by Imanda Scholten)
Within the project 'Structure Formation' first Joe Patterson (now at University of California, Irvine) and later Mohammad Moradi (Eindhoven University of Technology) as his successor aimed to create hybrid materials and analyse their formation processes synchronously with the use of advanced microscopy techniques, in particular liquid-phase electron microscopy (LP-EM). The project has provided fundamental insights that can be used to control the thermodynamics and kinetics of dynamic processes of molecules with both hydrophilic and hydrophobic properties (amphiphilic molecules). The potential impact is huge, think of medicine, energy, catalysis, and this breakthrough also has important implications for understanding materials in living systems. 
Read the interview on page 20 of the booklet >>
Brushing up on functional polymer coatings
Dr. Maciek Kopec about 'From Flatland to Spaceland'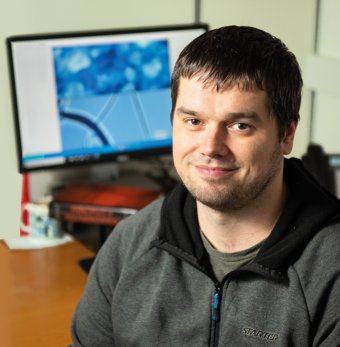 Photo: Maciek Kopec (by Nic Delves-Broughton)
The project 'From Flatland to Spaceland' focused on the development of a surface coating with specific mechanical, optical, electronic and / or thermal properties to be able to perform multiple functions. The goal was to achieve molecular-scale control of functional polymer platforms, consisting of long, densely packed polymer molecules, and to use them in advanced applications related to energy supply, environmental clean-up or in the biomedical domain, for example, the lubrication of pipes for oil drilling. To apply a functional layer on a surface, Maciek Kopeć (University of Twente, now at University of  Bath) turned to a technique called Atom Transfer Radical Polymerisation (ATRP). Prof. Krzysztof Matyjaszewski, who introduced this technique in the 1990s, was the international expert involved in this project. "ATRP provided excellent polymerisation control and a well-defined polymer brush layer around the particles. As expected, the organic coating decreases friction and wear." Through this programme, the Netherlands has strengthened its position in this exciting area of polymer chemistry for designer materials.
Read the interview on page 30 of the booklet >>
Familiar techniques, new materials: preparing for the quantum revolution
Dr. Amir Mirza Gheytaghi about 'Superconduction Nanotubes'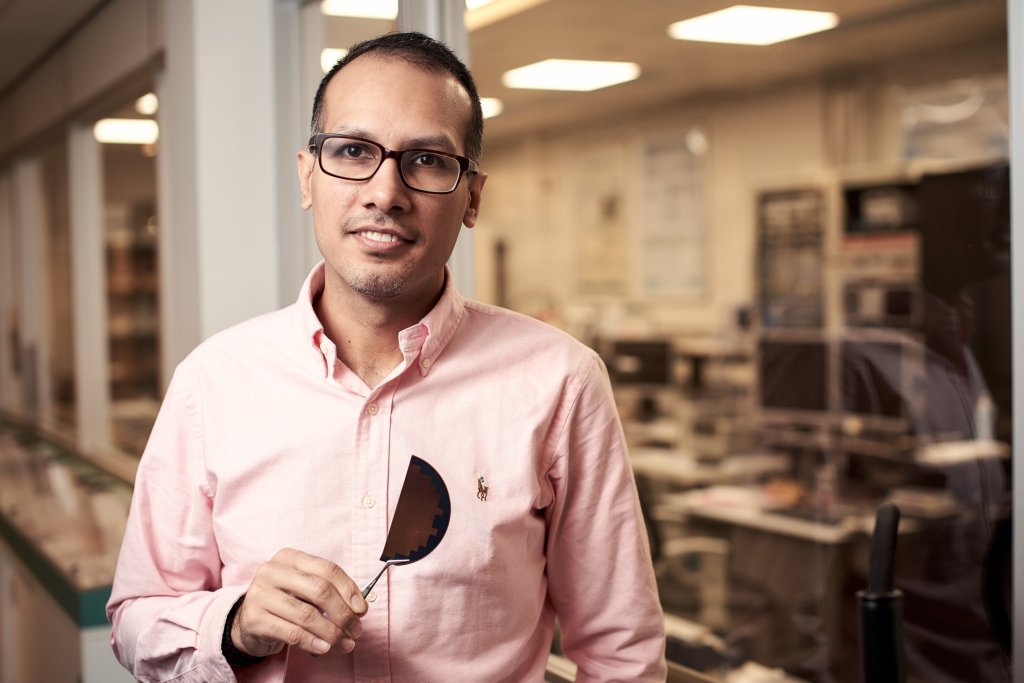 Photo: Amir Mirza Gheytaghi (by Ernst de Groot)
Materials scientists are to develop the materials and production processes for the quantum systems of the future. The project 'Superconducting Nanotubes' aimed to explore whether an exciting application in the quantum domain was worth introducing a new material into the cleanroom. Amir Mirza Gheytaghi (Delft University of Technology) says: "So far, quantum innovations have only been developed at the laboratory scale. But large companies such as Google and Microsoft are working hard to upscale and commercialise quantum technologies." The materials Amir looked at were carbon nanotubes, only a few nanometres in diameter, but with an amazing list of properties: stronger than steel, more conductive than copper, lightweight, more light absorbing than black paint. A bundle of nanotubes turned out to be a perfect scaffold for a superconducting material. In addition to quantum systems, carbon nanotubes can also be of value for health diagnostics. With a simple and cheap production process, disposable microscopes could be produced from a layer of carbon nanotubes combined with an optically transparent polymer, for example.
Read the interview on page 38 of the booklet >>
Embracing non-linear dynamics to create mechanical metamaterials
Dr. Priscilla Brandão Silva about 'Dynamical Metamaterials'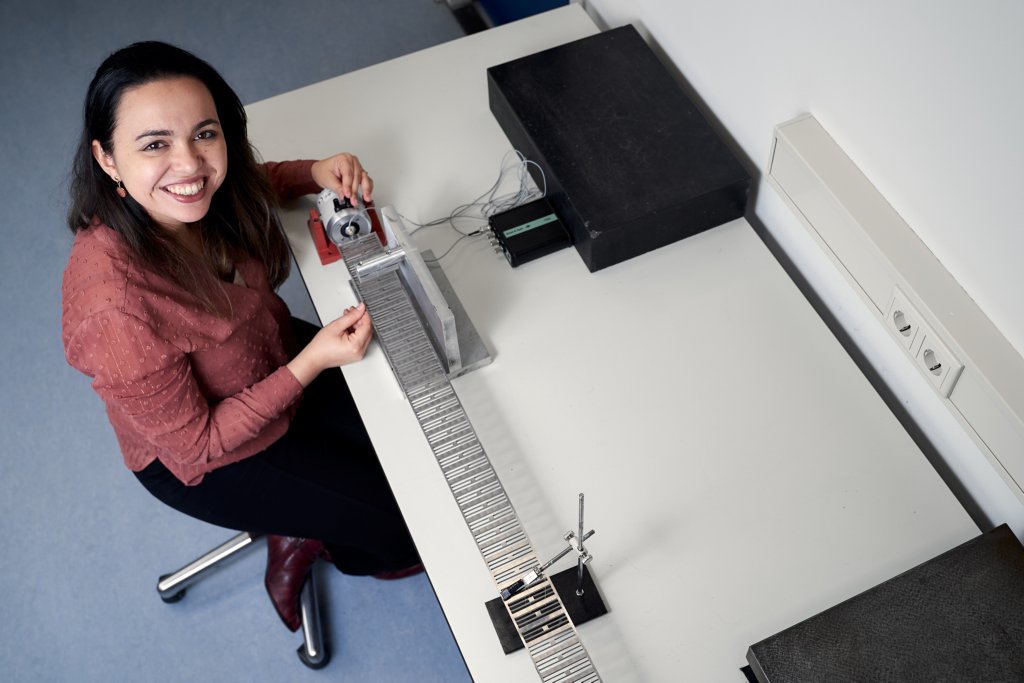 Photo: Priscilla Brandão Silva (by Ernst de Groot)
The project 'Dynamic metamaterials' shows that technological innovations for sound – like light, a wave phenomenon, consisting of mechanical vibrations – are challenging. What is needed for technological developments in sound technology are metamaterials, innovative material structures with properties that 'natural' materials cannot have. Not the chemical composition of such a material is different from conventional materials, but the way the material is structured and used in a practical application. Using both analyses and experiments, Priscilla Brandão Silva (now Research Scientist at Philips, Eindhoven) has developed metamaterials with non-linear dynamic characteristics that enable new attenuation mechanisms of sound and vibration and the realization of a 'mechanical diode' (a diode is an electron tube or semiconductor that conducts electricity in only one direction). Together with her colleagues at Eindhoven University of Technology she discovered that frequencies of twice the resonance frequency were also stopped by the metamaterial. The results are very fundamental, but Priscilla is convinced that acoustic metamaterials like this will be used in applications such as acoustic diodes in the future. Sound might also be used in quantum technologies, and there are possibilities for acoustic metamaterials in new diagnostic healthcare technologies that make use of (ultra)sound.
Read the interview on page 46 of the booklet >>
Entropy: friend or foe of the materials scientist?
Dr. Nicholas B. Tito about 'Reversible Crosslinking'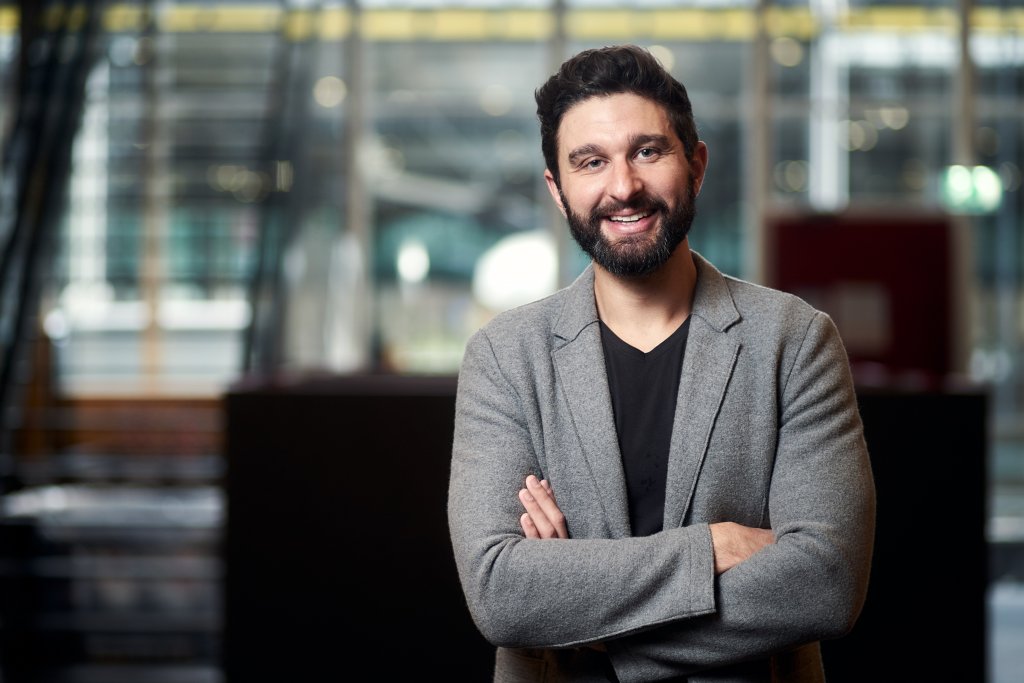 Photo: Nicholas B. Tito (by Ernst de Groot)
There is an intriguing polymer class that contains reversible crosslinks, mobile connections between two polymer chains that can easily be reattached when broken. Nicholas B. Tito was fascinated by the effects of these crosslinking additives on the overall material properties, because of the prospects of making it into recyclable or self-repairing materials. Whereas adding more crosslinks into a polymer network usually causes it to become stiffer, less elastic and more brittle, experiments show that the addition of certain kinds of reversible crosslinks toughens the material without compromising its stretchability. Trying to understand this was the starting point of the project 'Reversible Crosslinking'. Nicholas worked with several simulation and numerical modelling techniques. What this 4TU.HTM project has yielded is a microscopic design concept and modelling strategies for building this kind of self-repairing materials in which entropy ensures that the polymers constantly want to explore new connections. Because of this the researchers expect to discover new materials with special properties.
Read the interview on page 54 of the booklet >>
The Boundaries of Materials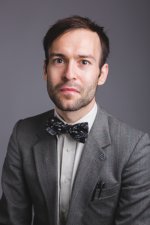 by Dr. Sam Illingworth
Senior Lecturer in Sience Communication
at The University of Western Australia, Australia

Click on the poem below to read and to hear a reading of this poem.
The Boundaries of Materials
Published papers
The book contains a list of the most important papers published within the framework of this research programme. 
Colophon
Text - DBAR science writer & editor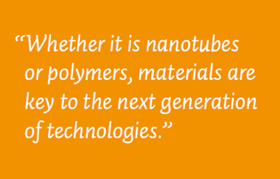 Editing - Reina Boerrigter
Graphic design - Nieuw-Eken Ontwerp
Portraits - Ernst de Groot, Imanda Scholten (TU/e), Nic Delves-Broughton (University of Bath)
Photos - RAMLAB, Marieke de Lorijn
Print - Mstra Drukkers
Publication
4TU.Research Centre High-Tech Materials
March 2020