Arjan Mol refers to young corrosionists after receiving the European Corrosion Medal
The August 2022 issue of the Newsletter of the European Federation of Corrosion (EFC) features an interview with prof. Arjan Mol, winner of the prestigious European Corrosion Medal 2022.
The prize is given to one recipient each year in recognition of their achievements in the application of corrosion science. Winning this award has offered Mol an opportunity to reflect and gauge his achievements, as well as his impact on the wider corrosion community.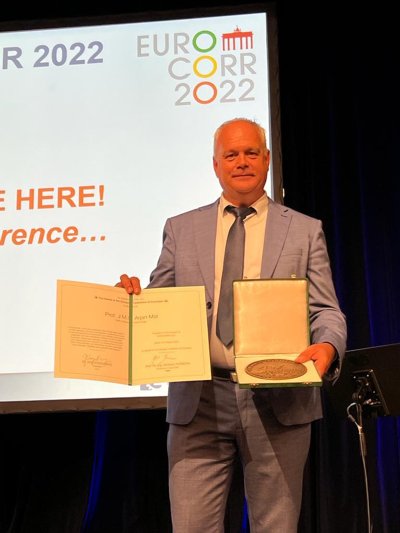 Like Arjan Mol already said in an earlier interview (at TU Delft) when he first heard the news about winning the European Corrosion Medal: "This European Corrosion Medal is a token of appreciation for all the students, scientists and engineers, both in academia and in industry, that I was fortunate enough to work with throughout my career. So I have a feeling of humility, honour and sincere gratitude to all the people that I have worked with – and hope to work with again in the future."

With this, Arjan Mol refers to the next generation of corrosionists in particular. As the challenges that we are facing in terms of corrosion and corrosion protection are too complex to do on your own, he is grateful for the things he has been able to do so far, like having the Young EFC in place. This investment in the future is rather vital.

Besides the next generation, Arjan Mol praises collaboration: "I have some expertise, which I think is useful for others, but I can learn just as much as others as they can learn from me," said Mol. "It's, for example, very difficult to be an expert in corrosion sensoring, as well as in machine learning, so it all comes down to teamwork and collaboration. By ourselves we simply cannot be as effective and impactful, as we are in collaboration.
The medal was handed over to Arjan Mol during the European Corrosion Medal Ceremony of EUROCORR 2022 in Berlin, on Monday August 29th, after which he delivered his plenary talk: Recent Progress in Advanced Characterization of Localized Corrosion and Active Protective Coatings.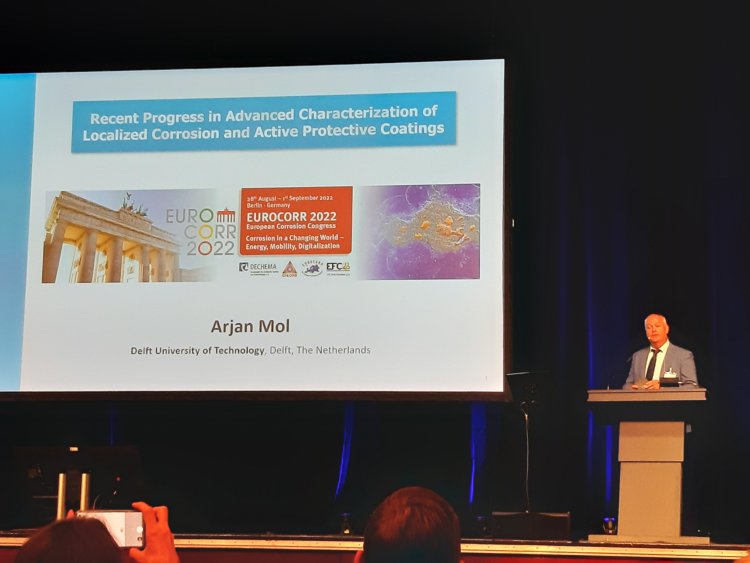 Photo: Peter Visser (Akzo Nobel)