This is a report of the second 4TU.HTM annual Symposium 'Dutch Materials' with pictures and Pdf files of posters and presentations.
Dutch Materials 2016
Programme  (Pdf file)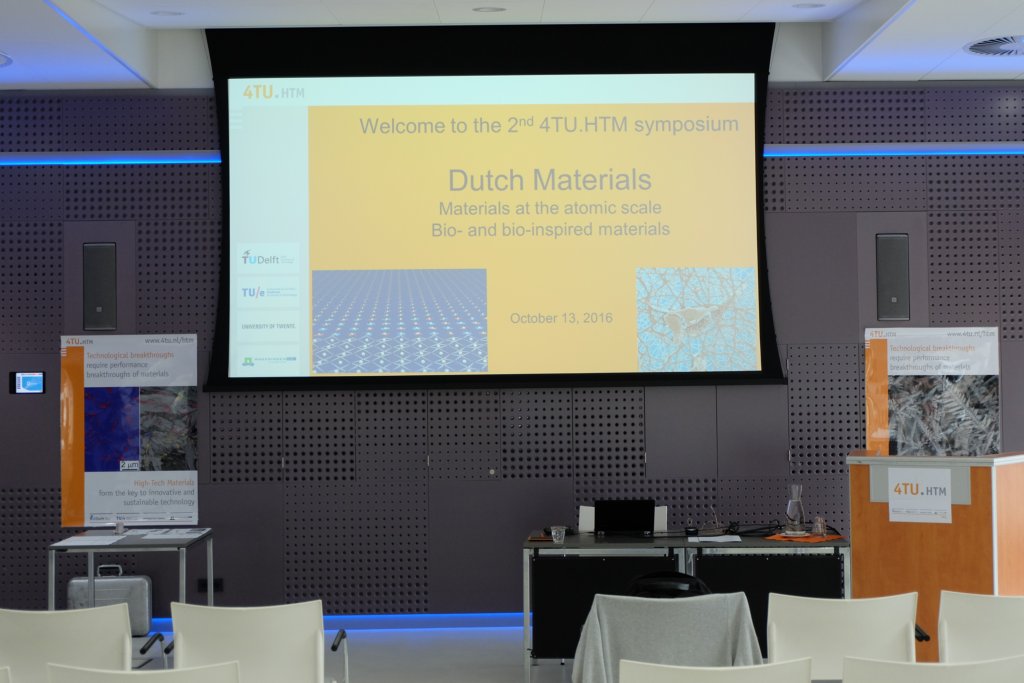 On Thursday 13 October 2016, the 4TU.HTM community with about 60 senior and junior researchers in the field of materials science and engineering from TU Delft, TU Eindhoven, UTwente and WUR, gathered in Utrecht (Jaarbeurs). The programme consisted of two lecture sessions and a poster session.
Prof.dr.ir. Jilt Sietsma (TU Delft), the scientific director of 4TU.HTM, welcomed the audience and started the day introducing the goals and ambitions of the 4TU.HTM research centre again, in particular to the new colleagues from Wageningen. One of the biggest aims is to collaborate, also with Wageningen.  

Presentation Jilt Sietsma (Pdf file)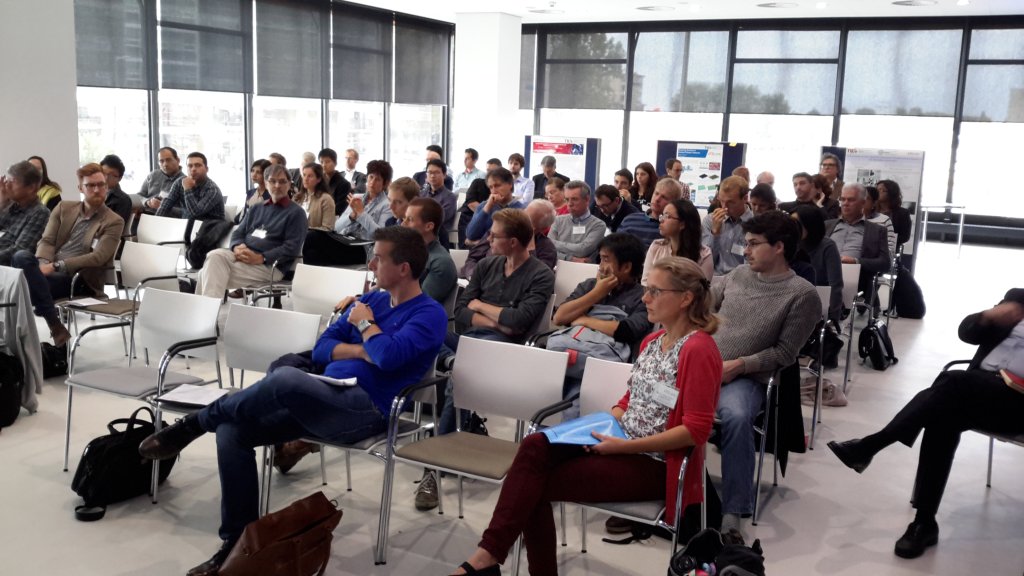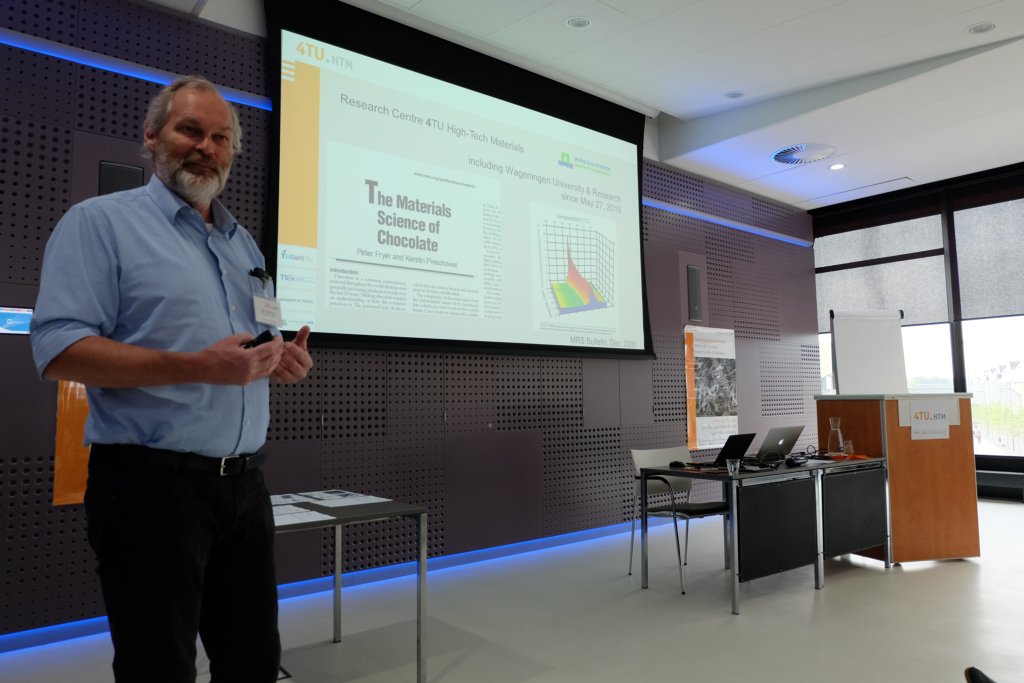 Jilt Sietsma introduces the idea for a joint workshop on Phase transformations in chocolate and steel.
Materials at the atomic scale
Prof.dr. Herbert Urbassek
Physics Department, University of Kaiserslautern, Germany

Title: Atomistic simulations in materials science: nanoplasticity and phase transformations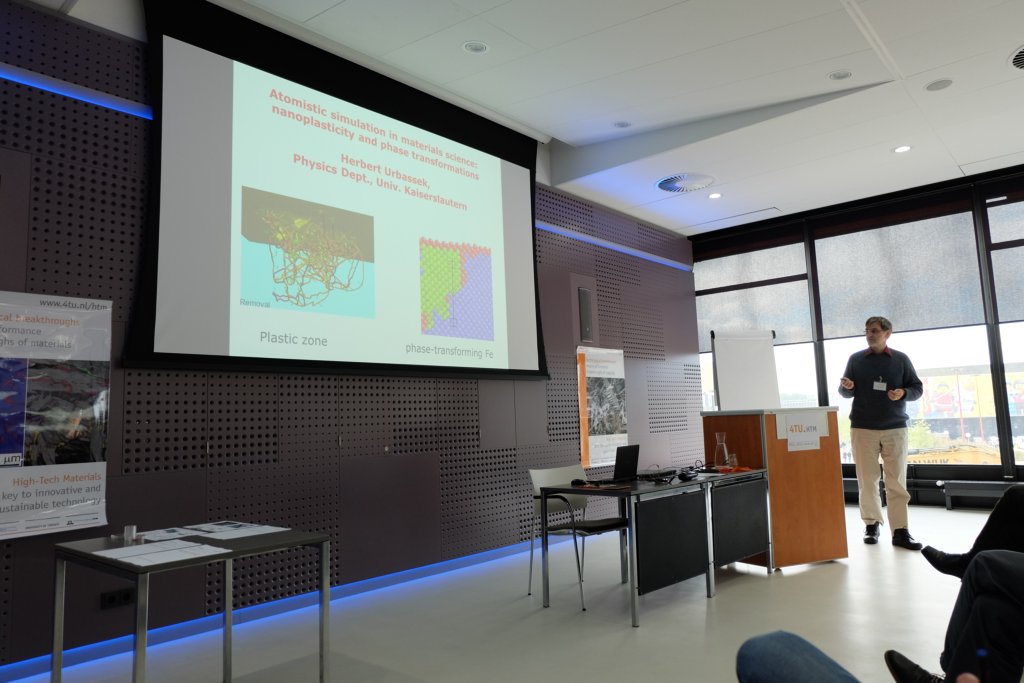 Herbert Urbassek talks about Atomistic simulations in materials science.
Prof.dr. Paul Koenraad
Applied Physics, Photonics and Semiconductor Nanophysics, Eindhoven University of Technology
Title: 3D material characterisation at the atomic scale by Atom Probe Tomography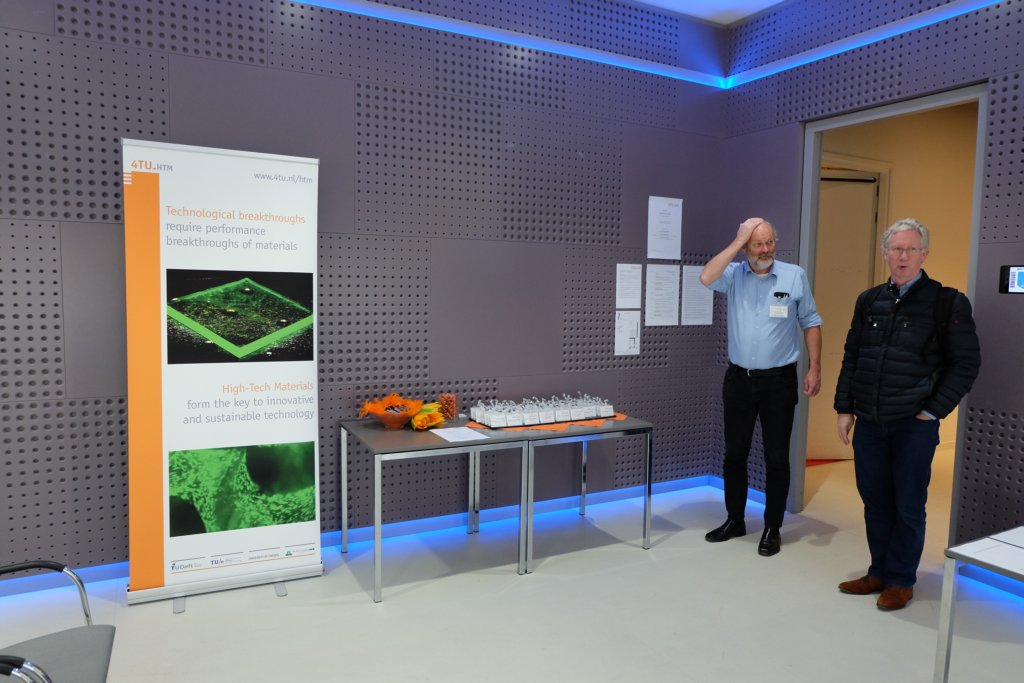 Key note speaker Paul Koenraad arrives.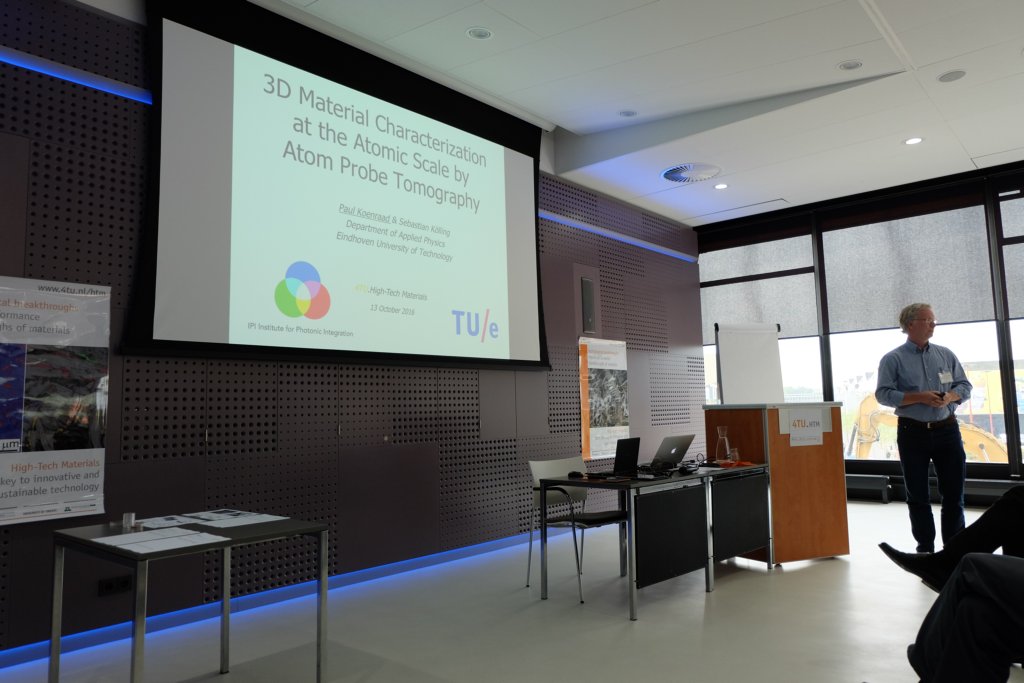 Paul Koenraad talks on Atom Probe Tomography.
Bio- and bio-inspired materials
Prof.dr. Thomas Scheibel
Chair of the Department for Biomaterials, University of Bayreuth, Germany
Title: Structural proteins: Self- Assembling Biopolymers for Various Applications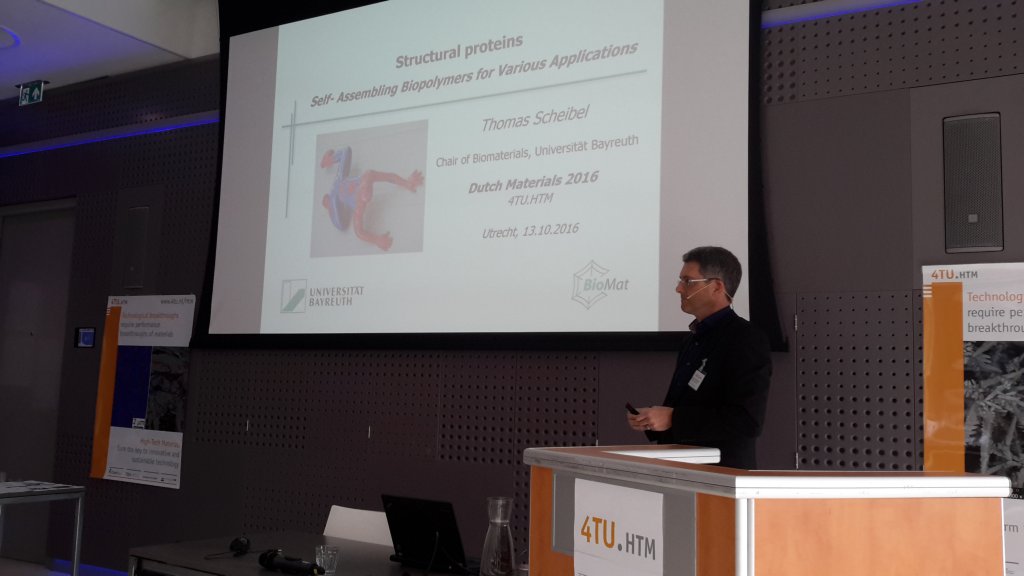 Thomans Scheibel talks about self-assembling biopolymers.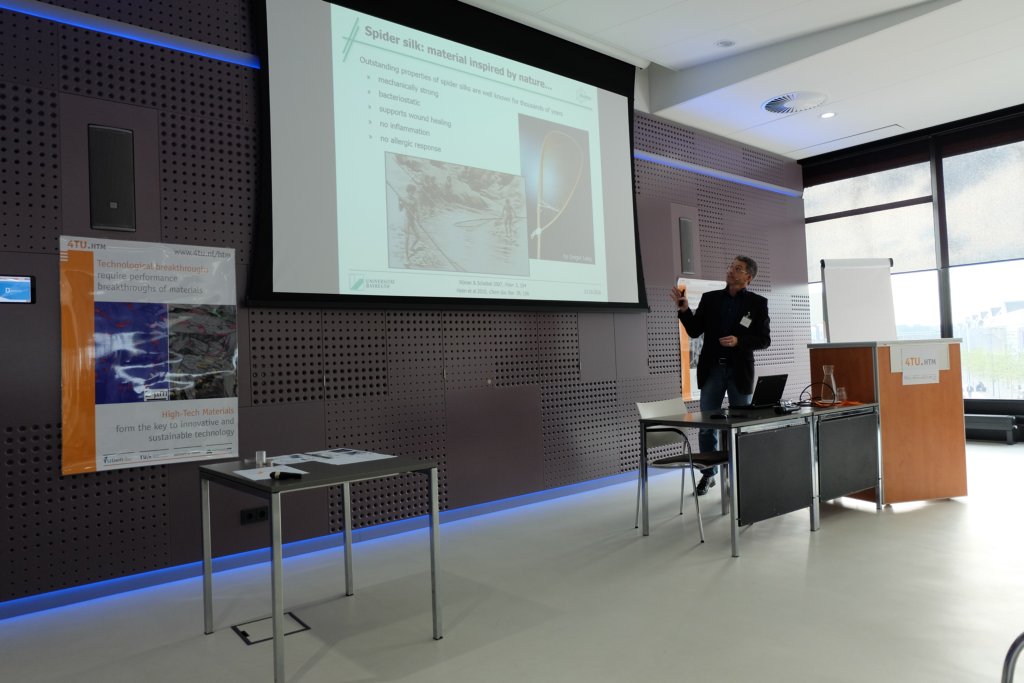 Thomas Scheibel explains the properties of spider silk: material inspired by nature.
Other speakers on bio- and bio-inspired materials: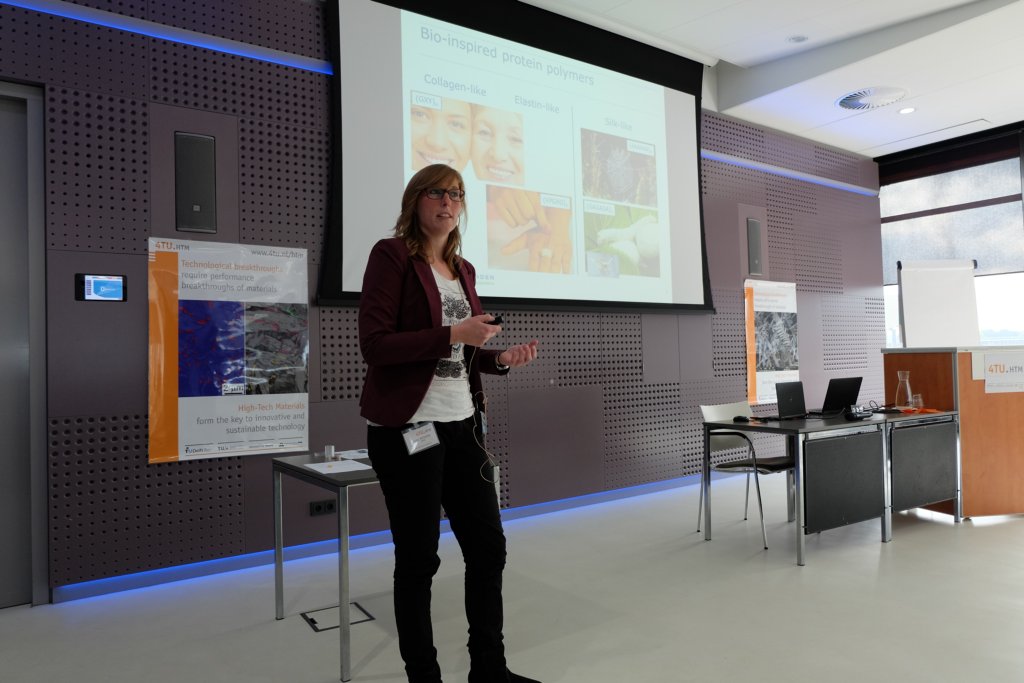 Lione Willems speaks on bio-inspired protein polymers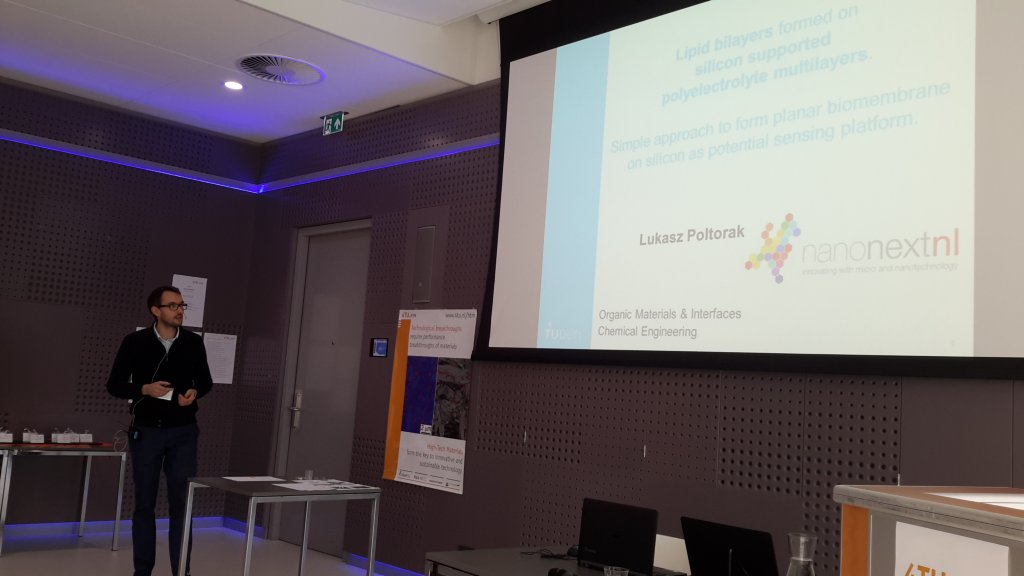 The presentation of Lukasz Poltorak is about lipid bylayers.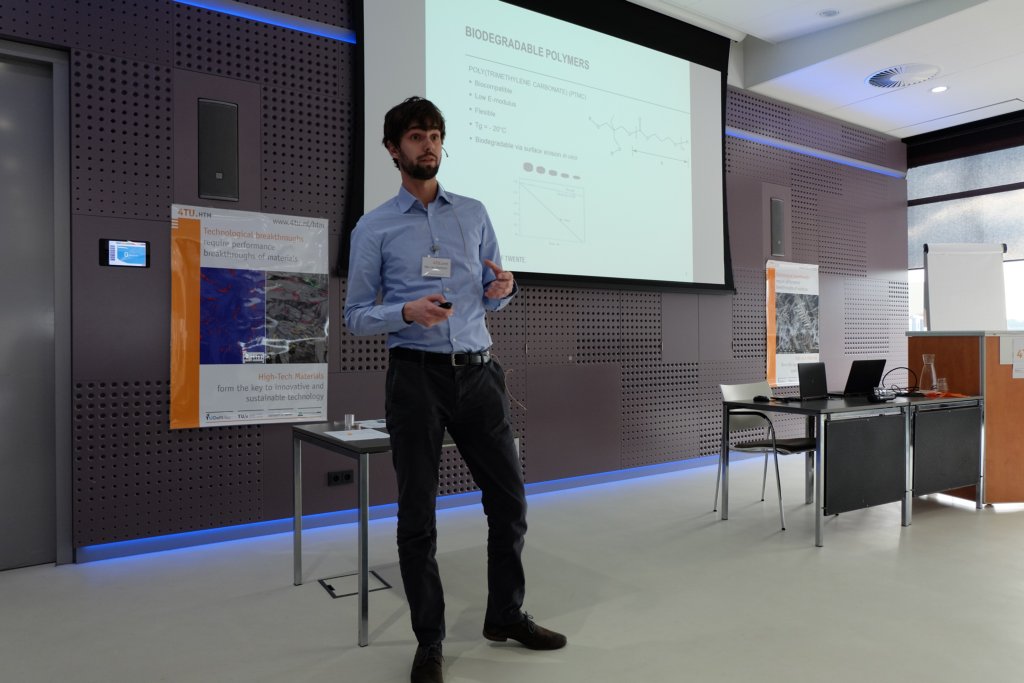 Bas van Bochove talks on biodegradable polymers
Poster session
During the poster session developments within the 4TU.HTM research programme New Horizons in Designer Materials were presented.
Other posters were presented as well: Poster titles Dutch Materials 2016 (Pdf file)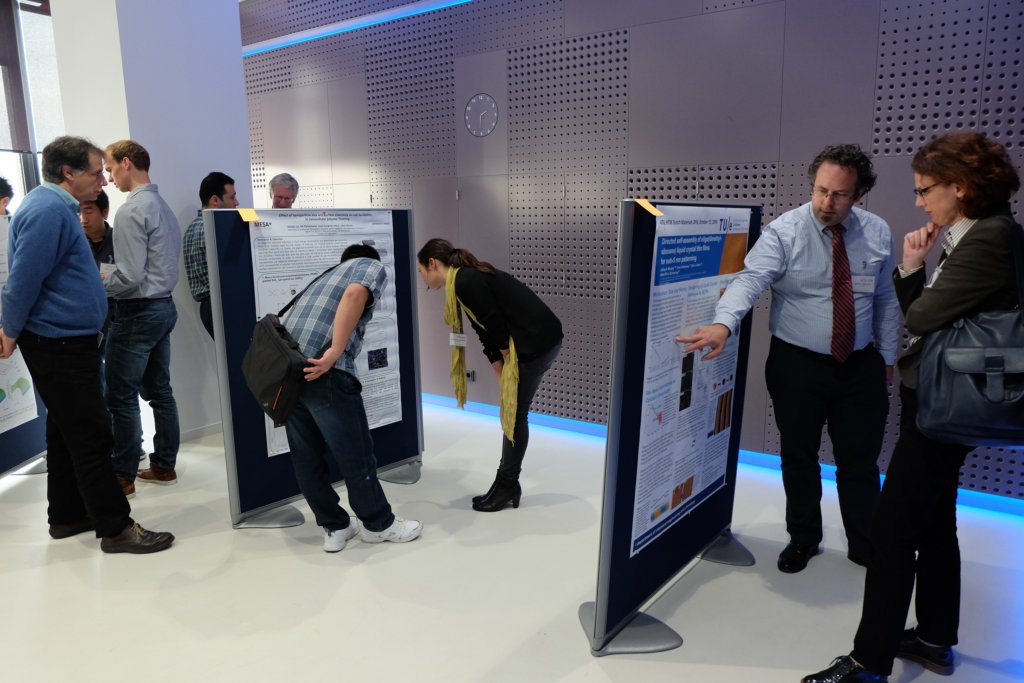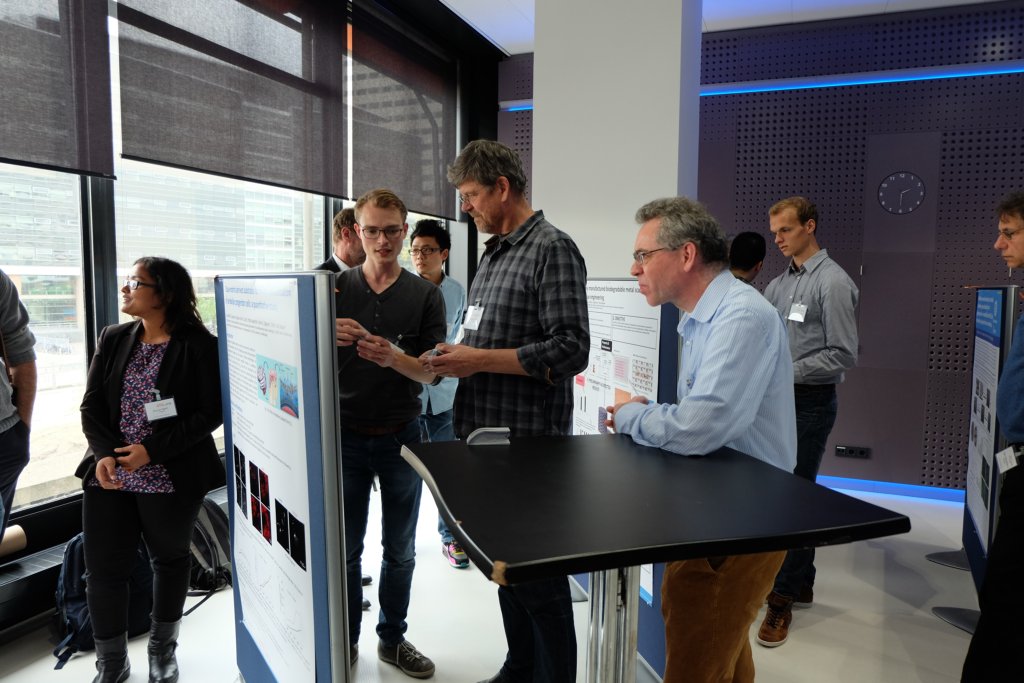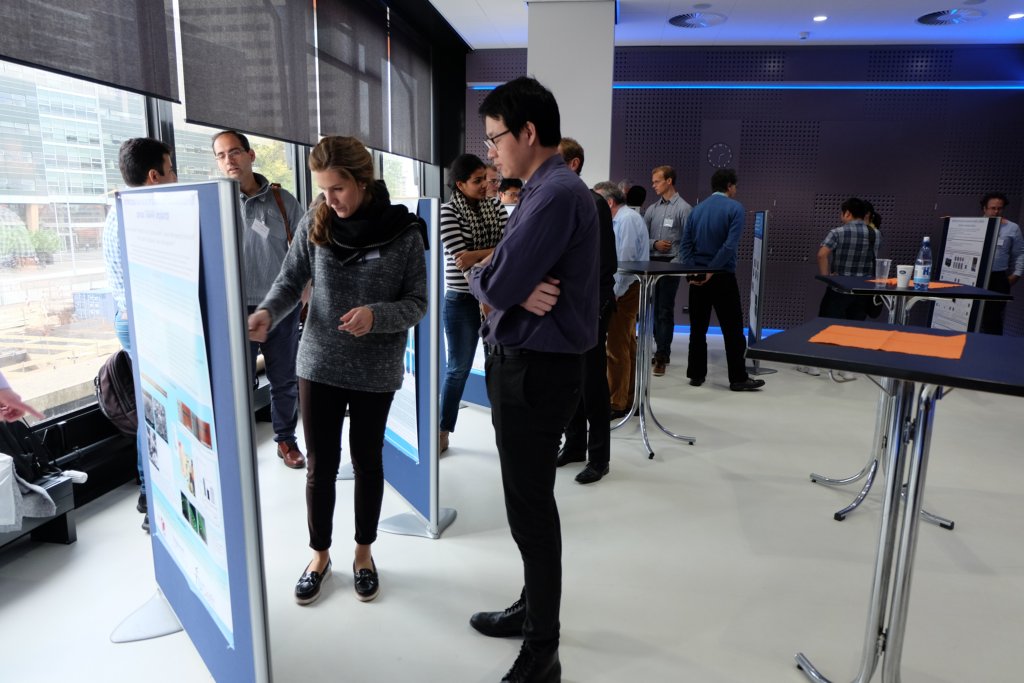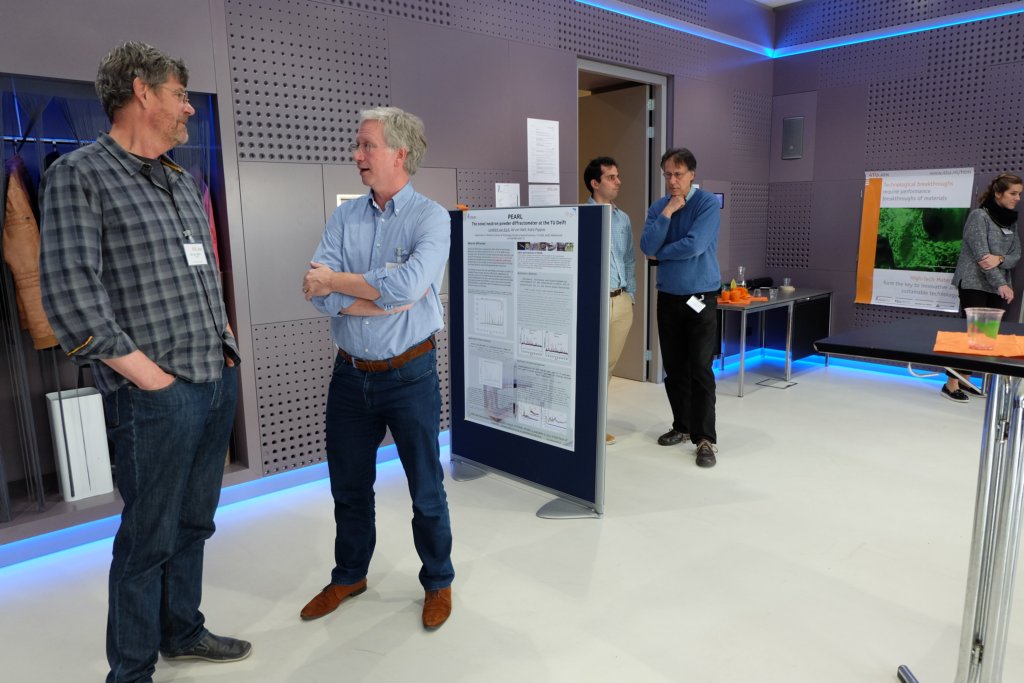 Poster titles 'New Horizons in Designer Materials'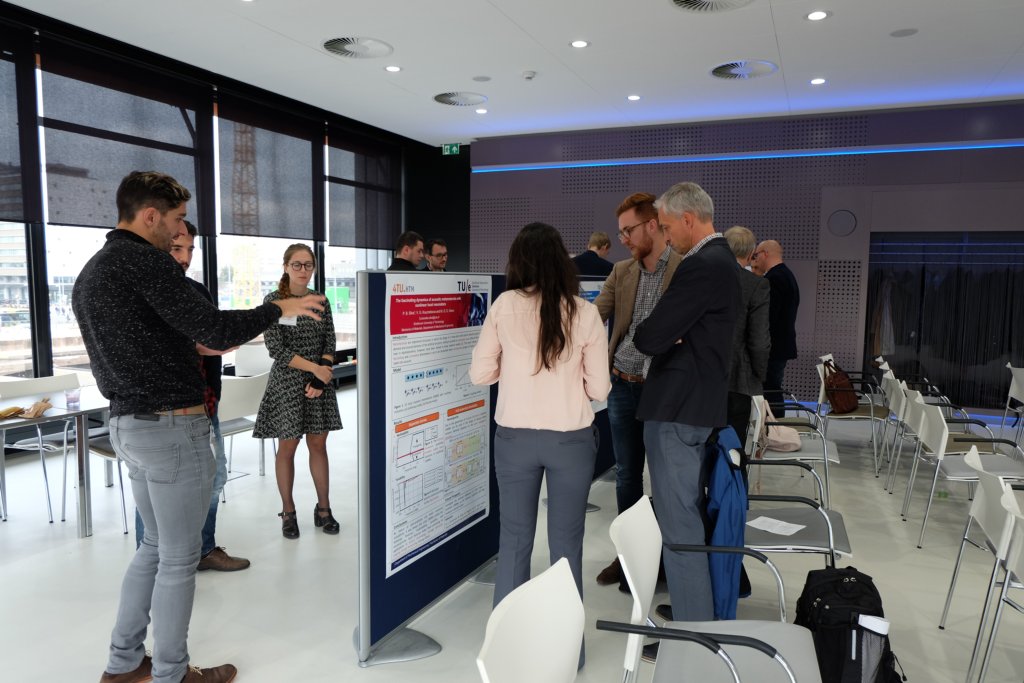 Priscilla Brandão Silva is discussing her poster with TU/e colleague Marc Geers.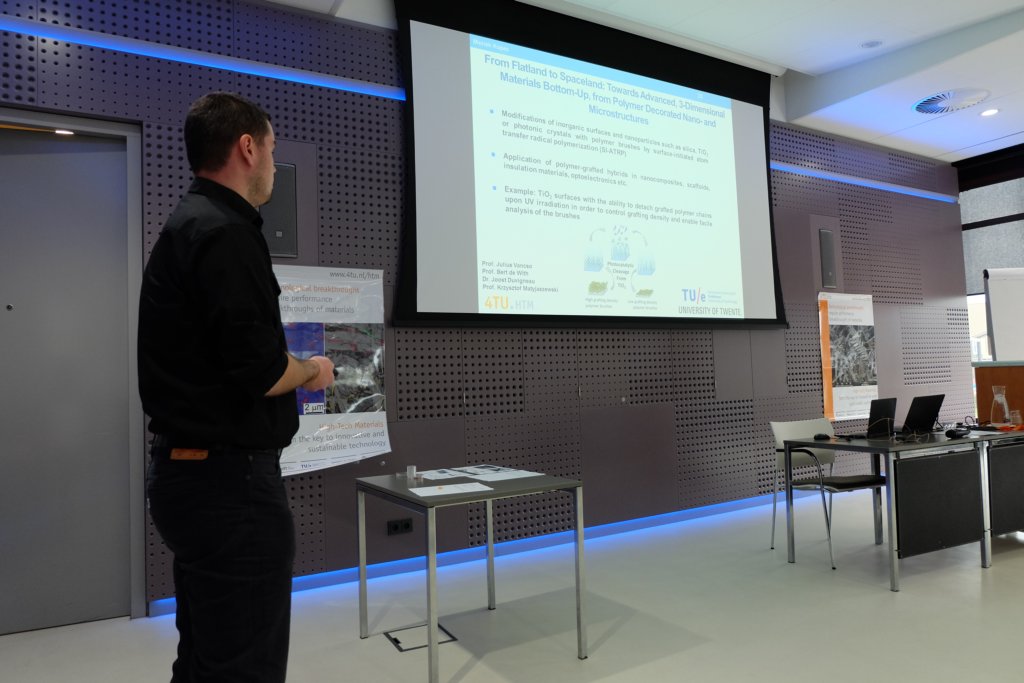 Maciek Kopeć introduces his poster.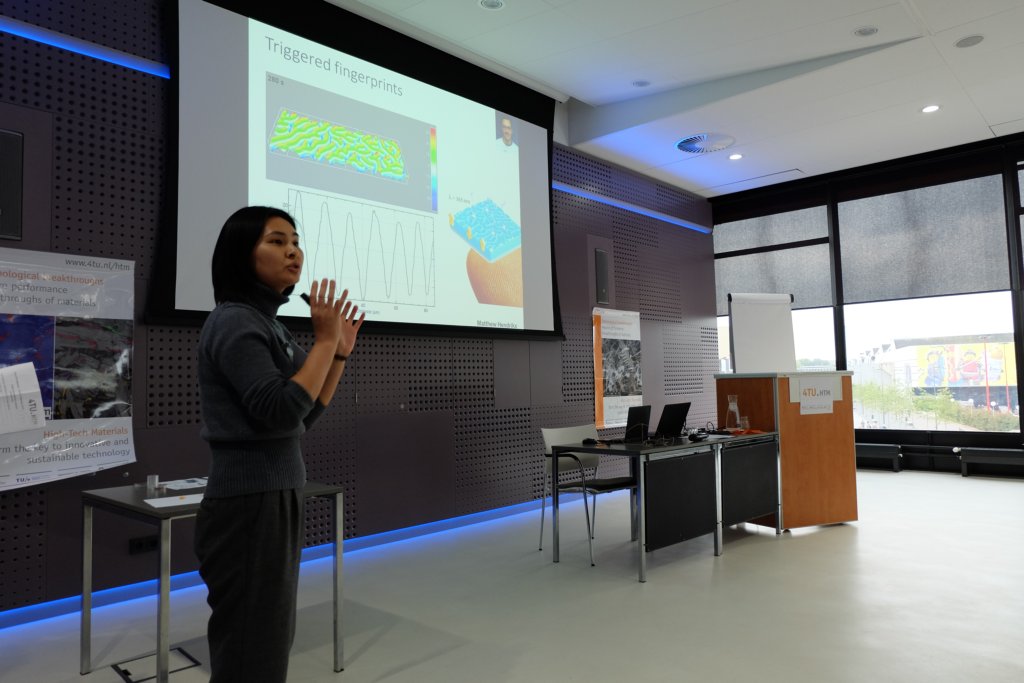 Danqing Liu introduces her poster.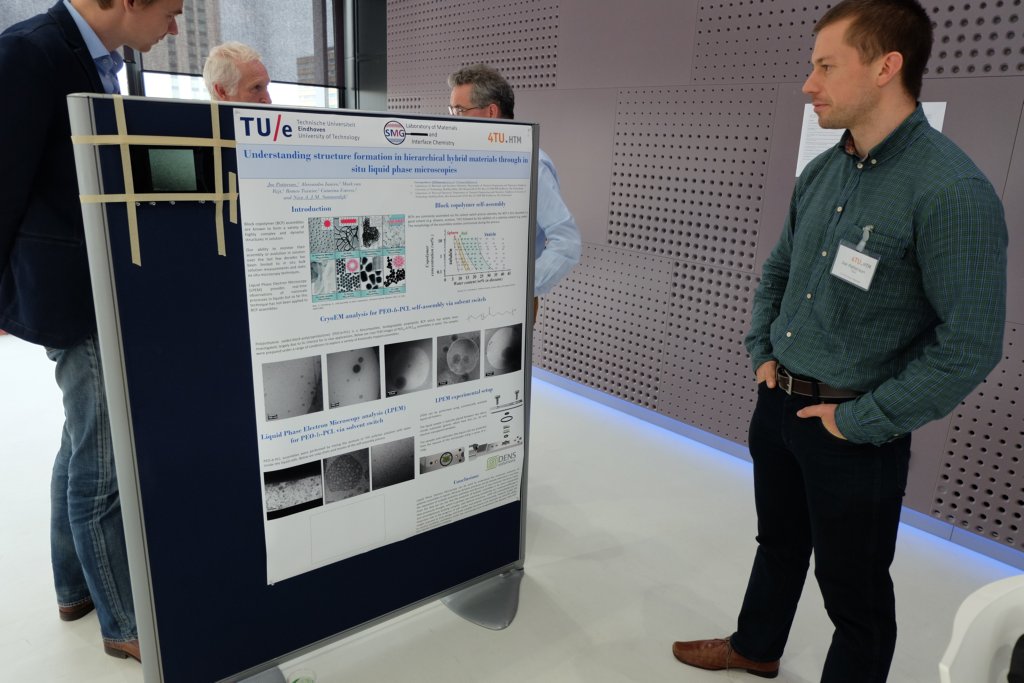 Joe Patterson and his interactive poster presentation (including movies).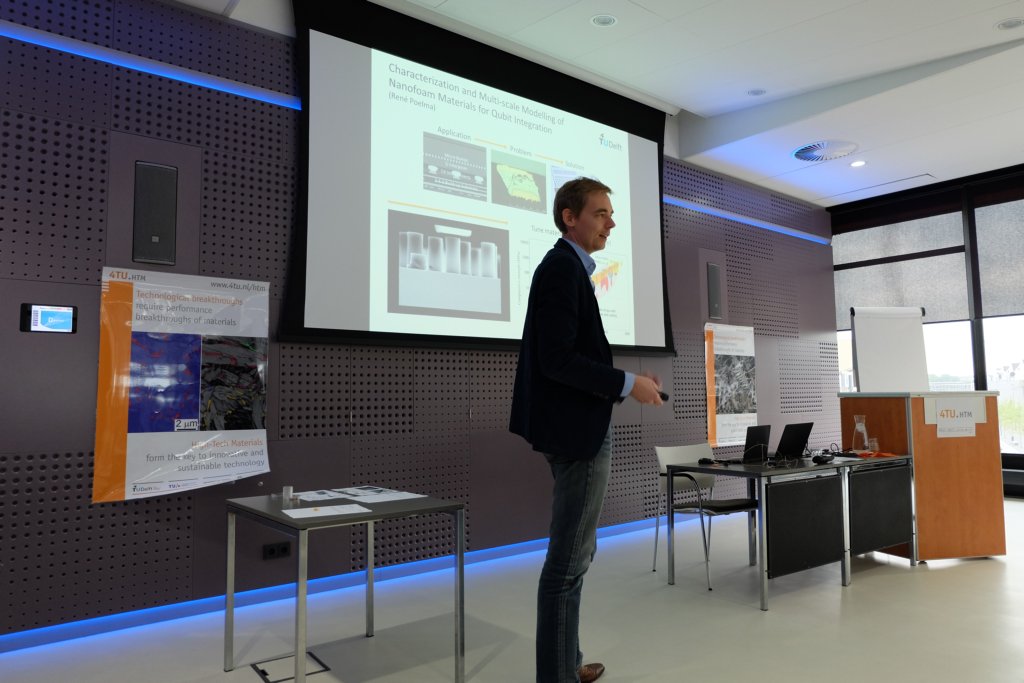 René Poelma introduces his poster.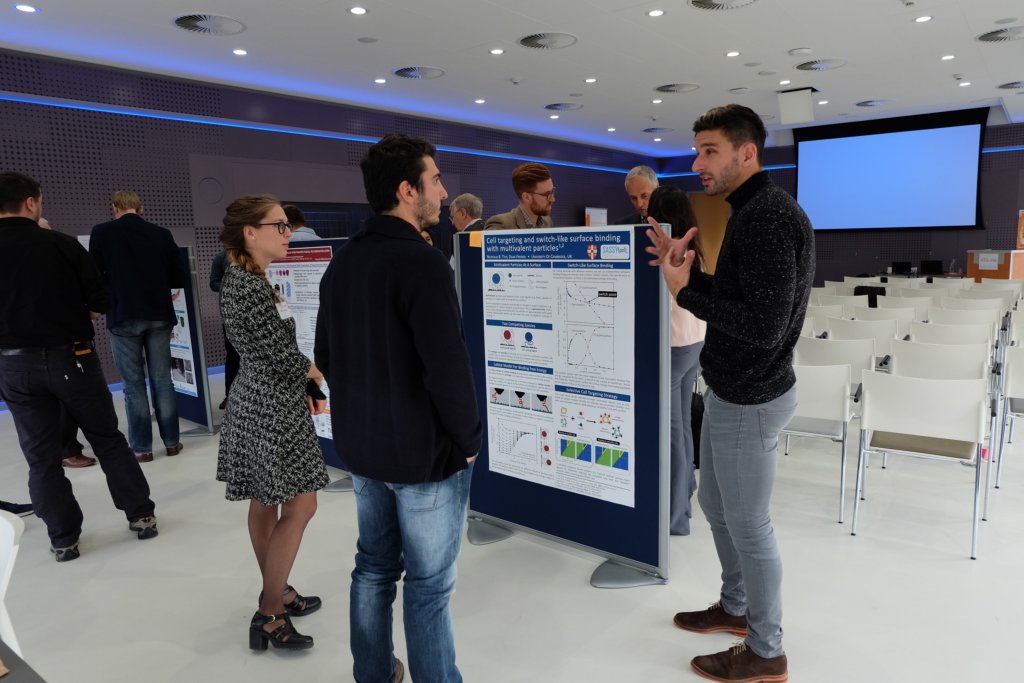 Poster presented by Nick Tito.
Poster titles New Horizons in designer materials Dutch Materials 2016 (Pdf file)
For more information: Reina Boerrigter (Secretary 4TU.HTM)
Twitter: @4TU_HTM, #dutchmaterials