Objective
In more and more technological sectors there is an increasing demand for advanced and application-oriented mathematical knowledge and expertise. AMI joins forces in research teams to develop new or improved methods to meet the challenges of current and new problems in varying areas.
AMI also promotes collaborations between the universities with regard to (applied) mathematics education. By means of new initiatives, projects and tools we facilitate staff and students. Our mutual goal: making education more efficient and flexible and improving didactic methods.
Activities
Research
Within the 4TU.AMI program the research teams currently focus on the research areas Big Data, Energy, Health, Resilience, and Water.
Education
The 4TU.AMI educational projects aim at developing education materials and databases as well as creating a better connection between secondary schools and universities.
Collaboration
4TU.AMI continues to strengthen the cooperation with the industry and knowledge institutions through the research teams. In order to meet the need for a connecting network between companies and the universities, 4TU.AMI regularly organizes company events.
Funding
To stimulate and encourage academic collaboration 4TU.AMI has allocated part of its budget for interuniversity events. Applications that include at least two of the four universities are eligible for funding.
Events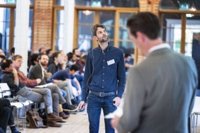 4TU.AMI regularly organizes congresses, symposia and study days for several target groups. Some annual events are:
The Spring Congress: an event with presentations and lectures related to a certain topic within the field of applied mathematics.
The InterTU study day: a meeting where teaching staff gets informed about the latest educational developments within mathematics education.
The Mathekalender (in collaboration with the Matheon Institute in Germany): a mathematics contest for secondary-school pupils.