This year 4TU's Design United team used the opportunity of a digital Dutch Design Week to get Up Close and Personal with the work of up and coming design researchers with five themed talk shows and a magazine. As is the case every October, Design United co-produced CLICKNL's Design Research & Innovation Festival DRIVE.
Written by Julia Candy
Up Close and Personal – five livestreamed talkshows
"A Dutch Design Week in the midst of corona was always going to be different" comments Design United's scientific director Berry Eggen. "We knew from the start that packed out exhibition halls and crowding round the latest artefacts were out, but we still wanted to create that buzz of discovery.  That feeling you get at Dutch Design Week that you are part of something bigger - a movement."
And so Up Close and Personal was born. Five days, five themes, five livestreamed talk shows and a beautiful selection made by Marco Rozendaal and his 4TU content team: 33 of the most provocative design research projects from across the four Dutch technical universities. Provocative but also accessible and entertaining – thanks to the lively facilitation of host, Isolde Hallensleben and the satirical animations of Michel van der Pol.
But despite this lightness of touch, you don't have to dive too deep to realise that design research is at the forefront of many of the knottiest issues of the day. From Hybrids on day one, examining the blurring boundaries between human/machine and subject/object to Crisis! on day five, looking at the role of designers in crisis situations.
Take a look for yourself and check out the magazine https://2020.design-united.nl/
DRIVE at Dutch Design Week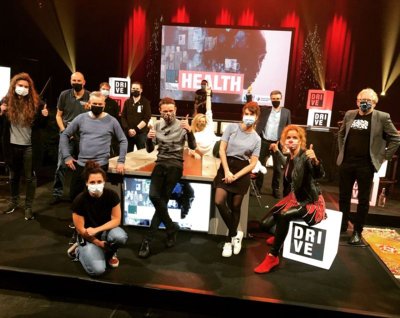 Traditionally, also this year, Design United co-produced CLICKNL's Design Research & Innovation Festival DRIVE. Live and online audience and speakers came together during interactive, inspiring online DRIVE sessions. Five days in a row, five different themes.
The 2020 DRIVE sessions were being programmed in conjunction with various Embassies of the World Design Embassy program. By linking DRIVE to the Embassies this year, all the partners reinforced their shared message that the creative industry contributes to solutions to social challenges with knowledge and innovation and a people-oriented approach.
Check out the DRIVE sessions https://www.clicknl.nl/en/drive/review-drive-2020/
 Photography of dress: Kelip | TU/e