EngD programme in Robotics
The market demand for academically technological designers is no longer fully fulfilled by regular MSc graduates. The needs of the companies, the possible brain gain, and knowledge valorization from the UT to the companies, are important reasons for the development of a EngD programme in Robotics.
Topics in the programme are for example Innovative mechatronic design, Advanced sensing and actuation, Embedded systems design, and System modeling and control.
The emphasis of the programme will be on obtaining and educating designers practicing skills in finding technological solutions. The EngD programme in Robotics prepares engineers for the design and deployment of Robotics in the industrial sector, maintenance and inspection sector, and medical sector.
For more information about the EngD programme in Robotics, please see our website, our flyer or contact our Programme Coordinator: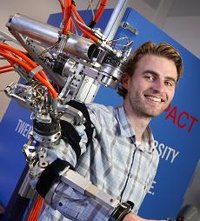 More information
Learn more about this programme and how to apply by visiting the EngD Robotics website.