Text: Nienke Beintema | Photos: Dieuwertje Bravenboer
The world is changing rapidly. Technology plays a crucial role in this, from IT to surgical robots and from precision medicine to 'smart' agriculture. Nobody knows which innovations will be needed to keep solving the world's increasingly complex challenges. How do you train engineers for this? How do you promote specialisation and expansion, without overburdening both students and faculty? A student and an education professor provide their views on these questions. 
The newspapers are full of worrying developments. Natural resources are running out, our waste is omnipresent, sea levels are rising and a pandemic has the world in its grip. But today two optimists are gathered around the table: a twenty-something and a forty-something. Yes, they acknowledge there are problems. But above all they see the possibilities. And the many positive developments.
"Look at all the great innovations that have happened in the past few decades", says Perry den Brok, chair of the 4TU Centre for Engineering Education (4TU.CEE). "Many of them can be attributed to changes in education."
The students themselves have changed as well, says Lieke Pullen, a Biomedical Engineering student at the University of Twente. "They are increasingly aware of their role in society and how they need to grow to fulfill it."
But the balance is fragile. Students as well as faculty have to keep more and more plates spinning. And then there's the Covid-19 crisis that has turned education upside down. The 4TU.CEE is following the developments closely, says Perry. The key, as he has discovered, lies in seeking connections. "The future is uncertain, but what we do know for sure is that we are faced with major challenges that cannot be solved from within one discipline", he says. "You need specialists, but you also need people who play a connecting role. Engineers who are expert communicators, also outside of academia, and who can work well together with others."
Lieke has the same experience, as the chair of Twente's Organisation of Study Associations. "Above all, engineers have to be flexible", she says. "Not just technically, but also in terms of their soft skills. And they must be able to reflect: what is going well and why, and what should be done differently?"
Within 4TU, we're consciously working on this. Our students are given a lot of freedom to make connections with other disciplines, including ethics and social sciences. And they work on real and challenging cases, in which all those aspects are addressed."
Isn't the curriculum bursting at the seams?
Lieke: "Well, there is that risk, certainly. Many students find it difficult to strike a healthy balance. You have to be able to stand your ground. There are so many choices, there is so much to do. Not only within the study programme, but outside of it as well. So you have to be acutely aware of what you want to achieve and how you want to do that. And where your limits lie. I think the technical universities should pay more attention to this. "
Perry: "I agree with Lieke, but we are improving already. Early on in the programme, we stimulate our students to think about what kind of engineer they want to be and what choices go with that. At the same time, we also realise that not everything is possible within the curriculum. You will have to learn some things in practice, at a company or as a teacher. This is now also reflected in the study programmes. Through challenge-based education, for example, our students work on actual cases from business or society. Some already work at a company during their studies. Or they're teaching. And vice versa, they will continue to take courses way beyond their graduation. "
Not only students experience stress due to the increasing complexity of the issues; faculty also suffer from a heavy workload, Perry notes. The majority work much more than their contract prescribes. "I do worry about that", he says. "Also because there is still a stigma attached to talking about your mental health."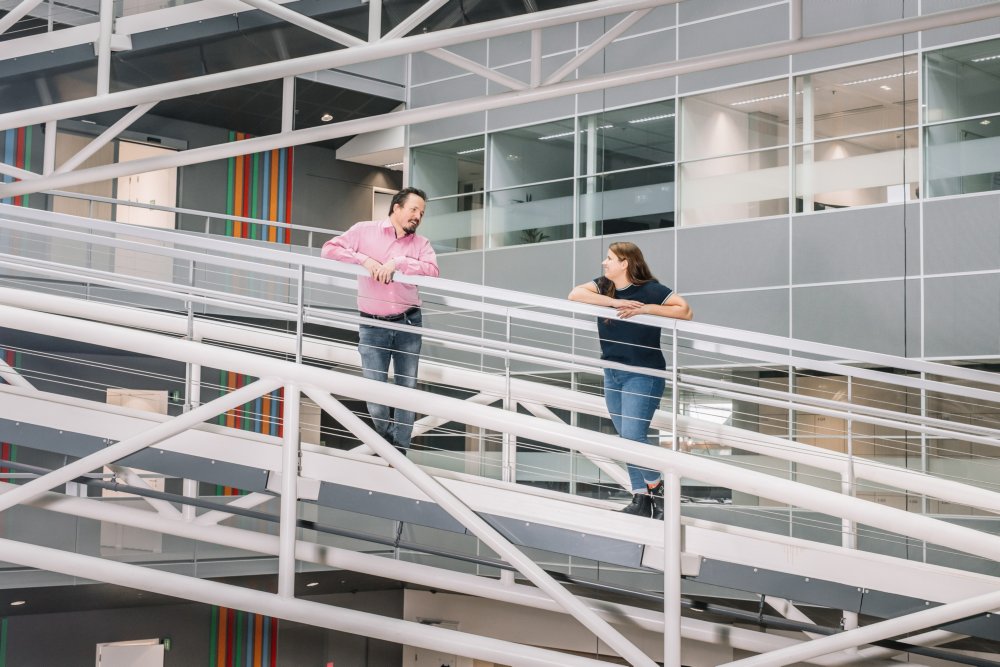 But progress is made in this area too, also in a 4TU context. "The answer lies in differentiation", says Perry, "for students as well as faculty. We need to offer students a more individual programme so they don't all have to jump through the same hoops. And we need to ensure that faculty are no longer judged solely on how much they publish or how many courses they teach. No, we also have to judge them on their skills, and they should be allowed to make choices in this context. How do they perform when it comes to supervising students? To innovating their lectures, coaching colleagues, drawing up quality assignments? For some time now, we've had an initiative centred on 'excellent teaching' within 4TU, which other universities are now starting to pick up as well."
Isn't it exhausting for a faculty, this continuous educational innovation?
Perry: "We do ask engineers to constantly innovate their profession, because society demands it. Then why not ask the same from the teaching staff? We do have to support them properly, though. Those universities that don't keep up with the times will no longer exist in the near future. It may sound a bit crude, but it's also okay if people leave the education profession when it no longer suits them. That is common in business too. And we have to practice what we preach: be creative and flexible, think critically, think systemically, dare to take risks, develop personal leadership."
Lieke: "We have adopted this mindset as well: we keep track of our own learning curve, and keep our career options in mind. It's becoming increasingly normal to constantly self-analyse."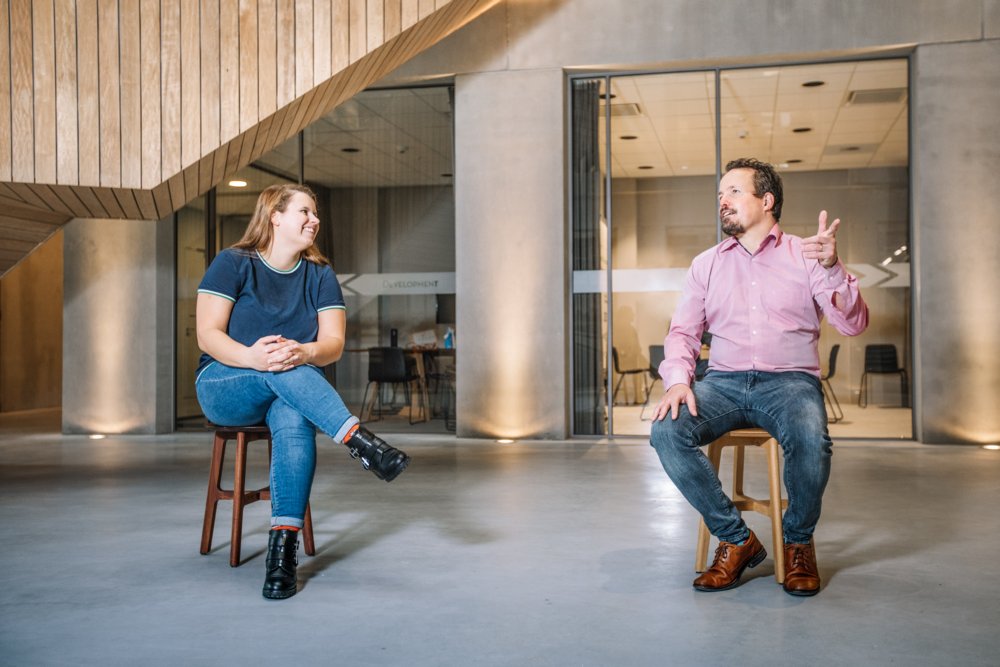 Since the start of the Covid-19 pandemic, this development has gained momentum. Suddenly, both teaching and learning had to take place online. Teachers had to reinvent their lectures, students their way of studying. "The Rector of Wageningen University immediately said to me: 'We are entering one big experiment. What do you need to study the process?'", says Perry. "We got started right away. Twente and Eindhoven are working on evaluations as well, and a study among PhD students is underway in Delft. In Wageningen we now follow the developments within more than 1,200 courses. " 
Have any results come from this yet?
Perry: "Yes. The bottom line is: neither students nor staff think online education is ideal. At the same time, both groups report that things are actually going pretty well. The fear was that the level of education and the satisfaction of the students would have decreased, but this turned out not to be the case. There are of course things that don't work online, such as lab work and internships. But everyone seems to be working on alternatives. We do see that stress and loneliness have increased. On average, that is. Some people are actually thriving. "
Lieke: "Good things have also come from the pandemic. For example, the majority of the staff now record their lectures. Students can review them later, and they can be use again in subsequent years. This lowers the teaching workload and ensures more continuity. And faculty can exchange lectures with other universities, also internationally. "
Perry: "It makes teachers more creative, also in their methods of student testing. If you test online, students can look things up, but is that necessarily bad? Not if you ask more conceptual or application-oriented questions."
Lieke: "Or ask students to write essays."
Perry: "If you see ICT purely as a replacement for the traditional university lecture, then it is indeed a step back. But within 4TU.CEE we are now thinking specifically about how we can make it an enrichment. What really needs to be done on campus, and what can just as well be done online? And we are exchanging tips: which useful tools are available for interaction and testing, for instance? Yes, I certainly see opportunities for permanent improvements."
In short, both student and professor conclude: tomorrow's engineer is flexible and open to change. He or she 'examines everything carefully and holds fast to that which is good' – and is positive and solution-oriented. "And learns from setbacks", adds Lieke. "You have to dare to evaluate them."
Perry: "It's the idea of 'brilliant failures'. If you can celebrate your failures, you'll also dare to take risks. Of course, you shouldn't experiment randomly, especially in education. You have to substantiate in advance why you are doing something, and then evaluate it properly. And dare to conclude that certain things don't work. But you'll only know if you dare. This inquisitive attitude not only characterises the best entrepreneurs, but also the best researchers and teaching staff."
Lieke: "And the best students."
Perry: "Exactly. And we're seeing this more and more. Lots of exciting things are happening within 4TU. It is one big playground for those who are passionate about educational innovation."