During the corona pandemic, many doctors were forced to provide care remotely and digitally. For heart patients, however, this could be good news, according to PhD research at Eindhoven University of Technology. Following a cardiac rehabilitation program – which is vital after a heart attack or a sudden angioplasty – can be done just as well at home as in the hospital. This is the conclusion of PhD student Rutger Brouwers from the most extensive research into 'telerehabilitation' to date. Time to implement this form of e-health on a large scale, says Brouwers, who will receive his doctorate from the Faculty of Industrial Design at the TU Eindhoven on Friday, February 11th. 
Participation in cardiac rehabilitation in patients with coronary artery disease reduces their burden of disease and risk of death, improves their quality of life and reduces healthcare costs.
Usually, the exercise program of the cardiac rehabilitation program takes place at the physical therapy department in the hospital. For patients, that means visiting the hospital twice a week for almost three months for training under the supervision of a physical therapist.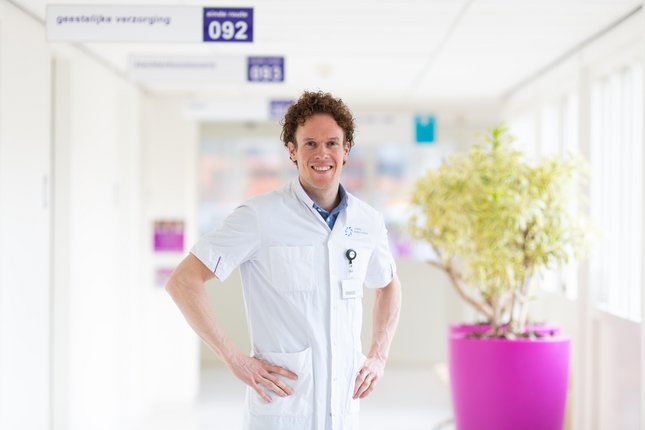 Physician-researcher Rutger Brouwers (photo: Máxima Medical Center)
"We see that this is too big a barrier for many patients, with the result that less than half of the patients participate in regular cardiac rehabilitation in the hospital," says Rutger Brouwers, physician-researcher at the Máxima Medical Center (MMC) in Eindhoven and TU/e researcher in the Future Everyday research group at the Faculty of Industrial Design.
The risk of relapse is also high. "Patients unfortunately often fall back into their old lifestyle pattern after intensive counseling, while we know that improving lifestyle greatly reduces the risk of incident or recurrent heart disease. Therefore, there is an urgent need for innovative rehabilitation methods that ensure that more patients participate and fewer patients relapse."
Smartcare-CAD
In collaboration with Máxima MC (MMC), Brouwers evaluated such an innovative rehabilitation method, which you can simply follow from the comfort of your own home. "This involves the use of wearable sensors (such as a heart rate monitor) and communication via telephone or video calls."
This so-called telerehabilitation has several advantages for patients: less travel time, fewer hospital visits, direct access to their data and progress and thus control over their treatment.