In May students were invited to form a team to compete for the student team award of Carbon Removal XPRIZE. This initiative by Elon Musk aims to find students who want to tackle the problem of climate change and participate in the capture of CO2. 4TU has offered support by offering workshops and coaching, but also offering the 4TU Student XPRIZE for the best pitch.
Kick-off
On May 20, the kick-off was held for the4TU Carbon Removal Xprize! Inspiring and connecting: those were the two keywords of the evening. Each university had arranged its own space, in which 25 students could attend the corona-proof meeting. Although the universities are far apart, they were connected during the event. Via a live stream from each location, both the online and offline participants were able to attend the presentations at the different locations and get to know each other.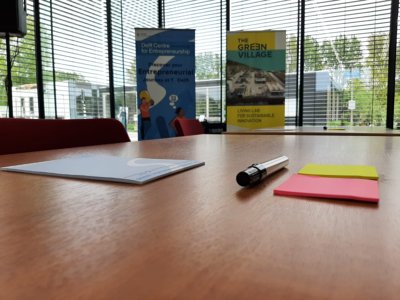 An online brainstorm session followed on May 27th, and two online ideation workshops were held (at June 2nd and June 9th). Students worked with Idea canvas focusing on different spheres (rocks, land, oceans, air).  Finally, they met again in Utrecht for a live team meet up at June 19th.
Four 4TU teams have joined this competition so far. The road towards XPRIZE hasn't finished yet. Before the submission deadline of 1st October 2021, there'll be a check-in at July 20th for the teams. At September 21th a Pitching event will be held; the best pitch will win a 4TU award. May the best win and hopefully all five teams will qualify for the XPRIZE Carbon Removal.