Big Data
Big Data promises to revolutionize our lives and our industry. However, a major challenge is extracting sensible information from massive data sets, using current hardware, software and, last but not least, mathematical methods.
Tackle big data problems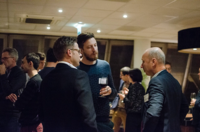 There is a lot of attention to big data from computer science. The focus is shifting to mathematical challenges now. We combine strengths in statistics and numerical analysis to tackle problems in big data. We make algorithms of complex networks. Examples are social networks such as Facebook and LinkedIn. As mathematicians in data science we analyze these networks and their properties and structures.
Members
Prof.dr. N.V. (Nelly) Litvak - Twente - coordinator
Dr. A (Alessandro) Di Bucchianico - Eindhoven
Dr.ir. F.H. (Frank) van der Meulen - Delft
Dr. L. (Laura) Iapichino - Eindhoven
Dr. H.R.M.J. (Ron) Wehrens - Wageningen