Winner Mathekalender 2021
Every year in December, around 6000 people participate in the annual Mathekalender. This advent calendar consists of 24 puzzles, which are released in both German and English and illustrate that math is fascinating, creative, and useful. Every year, the puzzles are invented by MATH+ researchers and their colleagues from 4TU.AMI.
Besides competing for the overall prizes handed out by MATH+, the top-scoring Dutch high school student receives a prize sponsored by 4TU.AMI. Of all the Dutch high school students who participated in 2021 edition of the Mathekalender, there was only one student who managed to correctly solve all but one of the challenging math puzzles:
Max Tinkelenberg (Rijnlands Lyceum, Oegstgeest)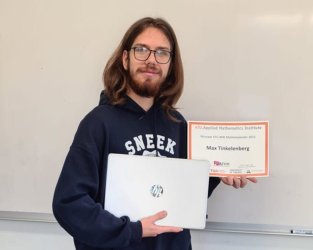 This outstanding achievement earned Max the 4TU.AMI prize (an award certificate and a laptop), which was handed to him on 22 December at his current school in Leiden.
Congratulations, Max!