Winnaars Mathekalender 2016
De Mathekalender-wedstrijd is een wedstrijd die gehouden wordt in Nederland en Duitsland georganiseerd door onze partner Matheon, een grote Duitse wiskundeorganisatie. Gedurende de advent-periode, van 1 december tot 24 december, krijgen de deelnemers elke avond via het web een wiskundeprobleem voorgelegd die dan binnen 24-uur opgelost moet worden. Dit jaar is er een primeur waarbij er niet één maar twee winnaars zijn van de Mathekalender-wedstrijd!
Onze eerste winnaar is Ward van der Schoot (18) van het Stedelijk Gymnasium Breda. Ward heeft een bijzondere interesse in de exacte vakken en dan voornamelijk wiskunde. "Het allerleukste vind ik het oplossen van problemen door het eerst te proberen en dit later hard te maken met een bewijs, waaraan niemand kan twijfelen doordat het niet afhankelijk is van iemands gevoel of mening."
Ward weet al zeker dat hij wiskunde gaat studeren om later een belangrijke rol te spelen in baanbrekende publicaties. AMI hoopt hem daar in de toekomst in te kunnen begeleiden.
Ook voor Marvin Jans (17) van het Liemers College in Zevenaar bleken de opgaven van de Mathekalender op het lijf geschreven te zijn. "Ik vind wiskunde interessant, en dan vooral het oplossen van puzzeltjes zoals bij deze wedstrijd." Marvin denkt er zelfs aan om wiskunde of technische wiskunde te gaan studeren.
AMI feliciteert Marvin en Ward met hun prijs en hoopt hen binnenkort te verwelkomen op een van de technische universiteiten.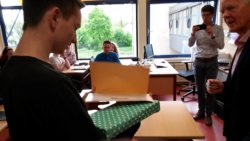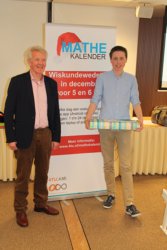 Datum: 20 juni 2017