In our Futuring theme for Dutch Design Week 2022, we're not just interested in futures, but how they link to pasts and presents. How does the past affect the present and the future?—but also, how does the future affect what we do in the present, and how we think about the past? Ideas, images, concepts, memories may be 'past' but still, they have a hold on us—motivate or worry, and they affect the way we think about the world. Equally, our hopes and fears may be there - still to happen - but nevertheless they can inspire, motivate, or worry us right now.
Our themed afternoon explores these questions, inviting visitors to reflect while interacting with projects foregrounding questions about intergenerational dialogues, climate change, and land use, past and future materialities, technologies, and practices. For our column we decided that, rather than asking a "leading voice" in the field, we would instead explore ideas from a more plural set of voices. In a kind of pilot snapshot of pasts/presents/futures together, which we aim to develop further in the future, we invited a small set of people of different ages within the 4TU community—students, colleagues, friends, family members—to think about how their imagination of the future has changed over time. We asked people to think back to when they were younger, and then to think about the present: 
What ideas or visions did you have of what the future might be like that still affect you today—even if they never happened? 
What visions of a possible future motivate or affect you right now?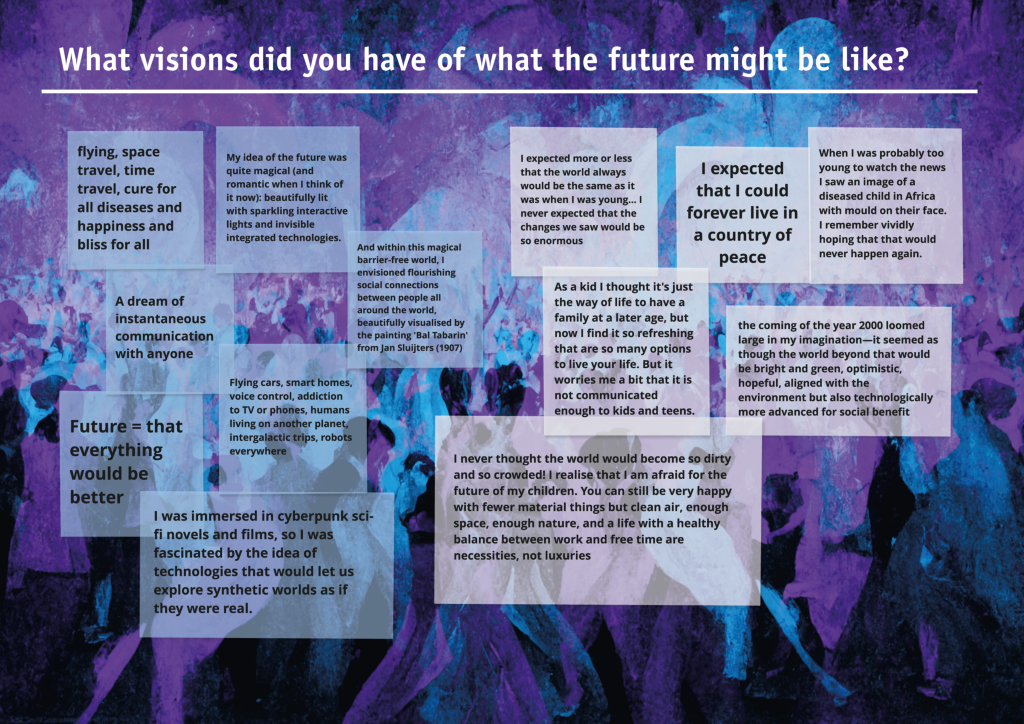 In answer to these questions, people responded with a selection of ideas and quotes both hopeful and less so, as well as with their reflections on life and age and on the wider world. Many of them could be starting-points for design engaging with respondents' hopes and fears in creative and critical ways and, perhaps, helping influence what futures actually come into being through a more responsible approach to innovation. Although it was a small sample (around 25 participants), one major theme emerged: while people's past ideas about the future were often bounded or separated in scope—technology will be like this, the world will be like that—present ideas about the future are often intertwined. Technology is no longer seen in isolation: it's not just "flying cars", but "what will flying cars do to society?", or recognition of the complexities of political and social change needed to mobilise technologies effectively to engage with the climate crisis.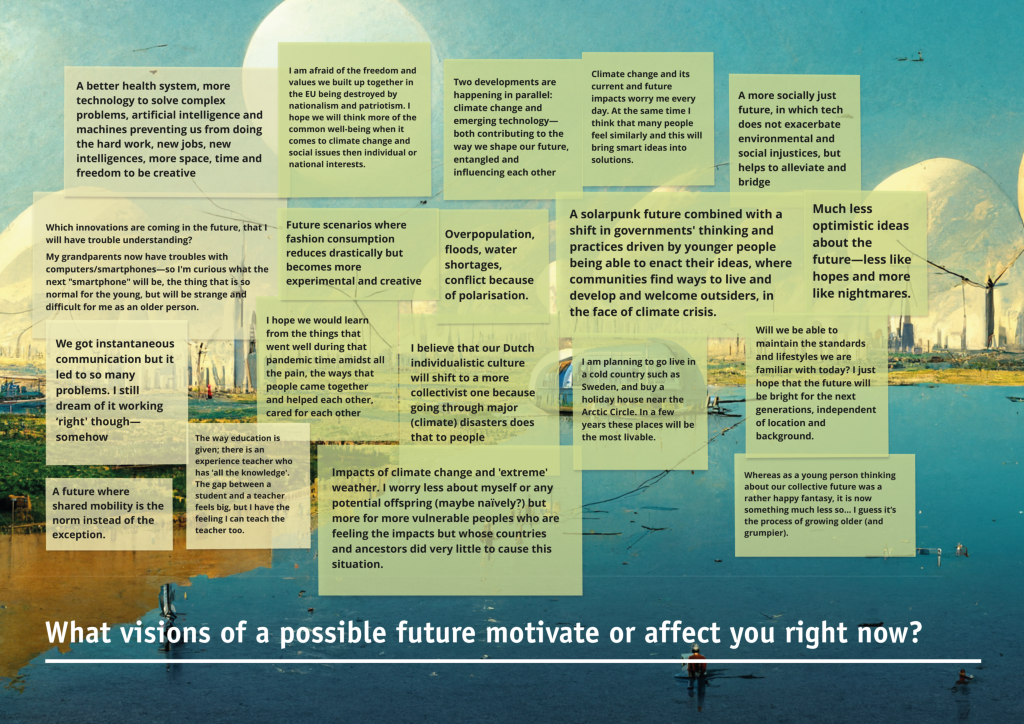 Many researchers, designers and artists with a critical eye towards the links between technology and society have been highlighting this sociotechnical entanglement for years. It's interesting that we see a similar pattern here, while encouraging people to reflect on past and present dreams about the future. We might perhaps think that it's also an effect of people gaining more complex and nuanced views as they get older and more experienced with the world. Particularly in the context of the climate crisis, which was missing from the 'past' ideas but now pervades many of the present ideas about the future. We can see this change as a source of concern but also, for some, a source of hope, in the sense of people working together, including with nature.   
This exercise is a precursor to our Dream Sequencer activity at DDW itself, in which visitors engage with similar questions, creatively, in more depth: please join us on 25 October.