Het Design United team van 4TU presenteerde zich dit jaar op de digitale Dutch Design Week met het werk van aankomende designonderzoekers in vijf thematische talkshows en een magazine. En zoals elk jaar was Design United de co-producent van het Design Research & Innovation Festival DRIVE van CLICKNL.
Geschreven door Julia Candy
Up Close and Personal - vijf livestream talkshows
"Een Dutch Design Week in coronatijd is natuurlijk anders ", zegt Berry Eggen, wetenschappelijk directeur van 4TU.Design United. We wisten vanaf het begin dat volle tentoonstellingszalen en een menigte rondom de nieuwste ontwerpen niet aan de orde waren, maar we wilden toch dat gevoel van ontdekking teweeg brengen.  Dat gevoel dat je krijgt op de Dutch Design Week, dat je deel uitmaakt van iets groters - een beweging."
En zo ontstond ''Up Close and Personal''. Vijf dagen, vijf thema's, vijf livestream talkshows en een prachtige selectie gemaakt door Marco Rozendaal en zijn 4TU content team: 33 van de meest provocerende designonderzoeksprojecten van de vier Nederlandse technische universiteiten. Provocerend maar ook toegankelijk en onderhoudend - dankzij de enthousiaste en deskundige presentatie door Isolde Hallensleben en de satirische animaties van Michel van der Pol.
Maar ondanks deze lichte toets, hoef je niet al te diep in de materie te duiken om te beseffen dat ontwerpend onderzoek aan de basis ligt van veel slimme oplossingen voor dagelijkse kwesties. Van Hybrids op dag één, het onderzoeken van de vervagende grenzen tussen mens/machine en subject/object tot Crisis! op dag vijf, kijkend naar de rol van ontwerpers in crisissituaties.
Kijk zelf eens naar het magazine https://2020.design-united.nl/
DRIVE bij Dutch Design Week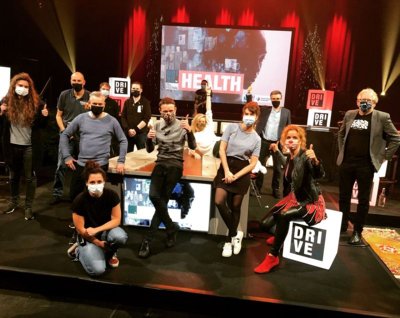 Ook dit jaar was Design United co-producent van het Design Research & Innovation Festival DRIVE van CLICKNL. Live en online publiek en sprekers kwamen samen tijdens interactieve, inspirerende online DRIVE sessies. Vijf dagen achter elkaar, vijf verschillende thema's.
De 2020 DRIVE sessies werden geprogrammeerd in samenwerking met verschillende ambassades van het World Design Embassy programma. Door DRIVE dit jaar aan de ambassades te koppelen, hebben alle partners hun gezamenlijke boodschap verstevigd dat de creatieve industrie bijdraagt aan oplossingen voor maatschappelijke uitdagingen met kennis en innovatie en een mensgerichte aanpak.
Bekijk de DRIVE sessies op https://www.clicknl.nl/en/drive/review-drive-2020/
 Fotografie van de jurk: Kelip | TU/e