TERRA-ink: Additive Earth Manufacturing for Emergency Architecture
According to the European Environment Agency (EEA), the number and impacts of disasters have increased in Europe in the period 1998-2009. Furthermore, military conflicts in the last years forced vast numbers of people to flee their home countries, contributing to the migration crisis we are facing today. According to the UNHCR, the number of forcibly displaced people worldwide reached the highest level since World War II. Currently, housing emergencies are inefficiently tackled, having high economic impact, waste and low adaptability to location-based needs, providing low quality temporary shelters that end up exceeding by far their serving time. However, post-disaster housing is by nature diverse and dynamic, having to satisfy unique socio-cultural and economical requirements. 
Aim of the project is to successfully address the housing emergencies in terms of time and cost while simultaneously creating satisfactory living conditions, by implementing 3D-printing and local soil for creating durable structures that can be easily de-constructed once they served their purpose. The use of locally sourced materials in combination with additive manufacturing can lead to significant reductions in financial investments, shipping materials and resources and human labor needed.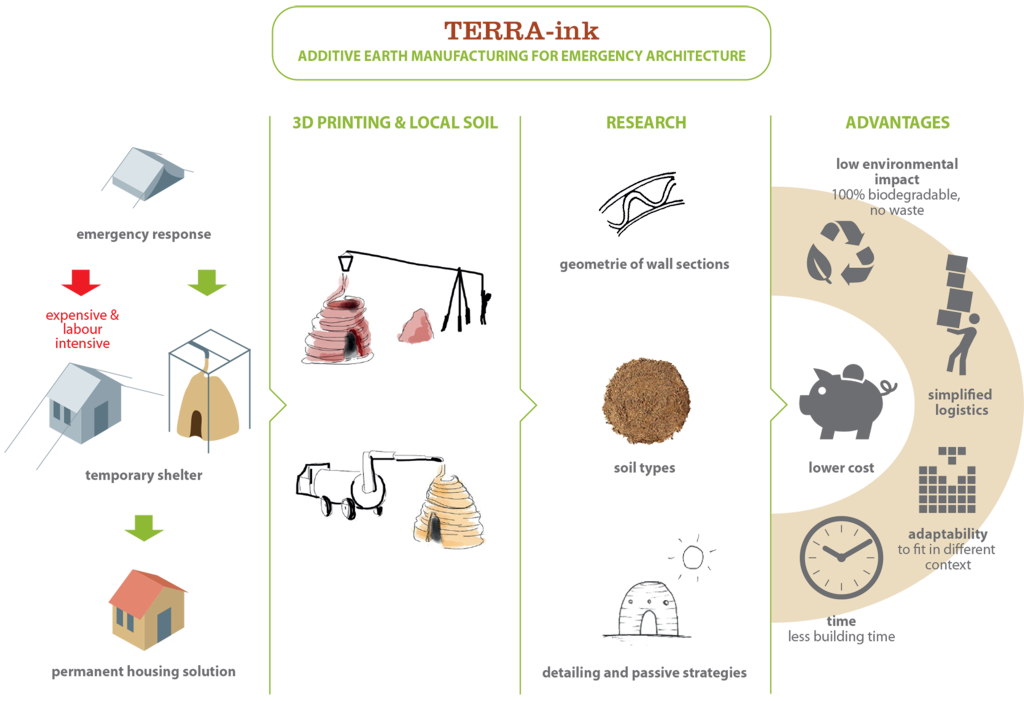 Team:
Delft University of Technology
Dr. Michela Turrin, Arch. Foteini Setaki, Dr.ir. Fred Veer, Arch. Sjap Holst
Eindhoven University of Technology
Prof. Dr. ing. Patrick Teuffel
WASP
Massimo Moretti