A luminescent solar concentrator (LSC) is a device that has luminescent molecules embedded in a polymeric or glass waveguide to generate electricity from sunlight via a photovoltaic cell attachment. The LSC device can function in diffused light as well as direct light, and may come in a variety of colors, shapes and transparencies. Therefore, the LSCs can be employed both in small and large scale projects, independent on the direction or angle of the surface with respect to the sun. It also promises more freedom for integration in urban environments and design choices compared to the traditional PV systems. 
Even though, the LSC offers many advantages over existing technologies, it has not yet been commercialized. To achieve this, proper understanding and exploration of not only technical aspects, but also insights into its presentation, design and appearance is needed. 
The aim of this Smart Energy Buildings & Cities (SEB&C) company assignment is to investigate the applicability of the LSC device in the built environment and to create a successful business case for a new product design that utilizes this technology.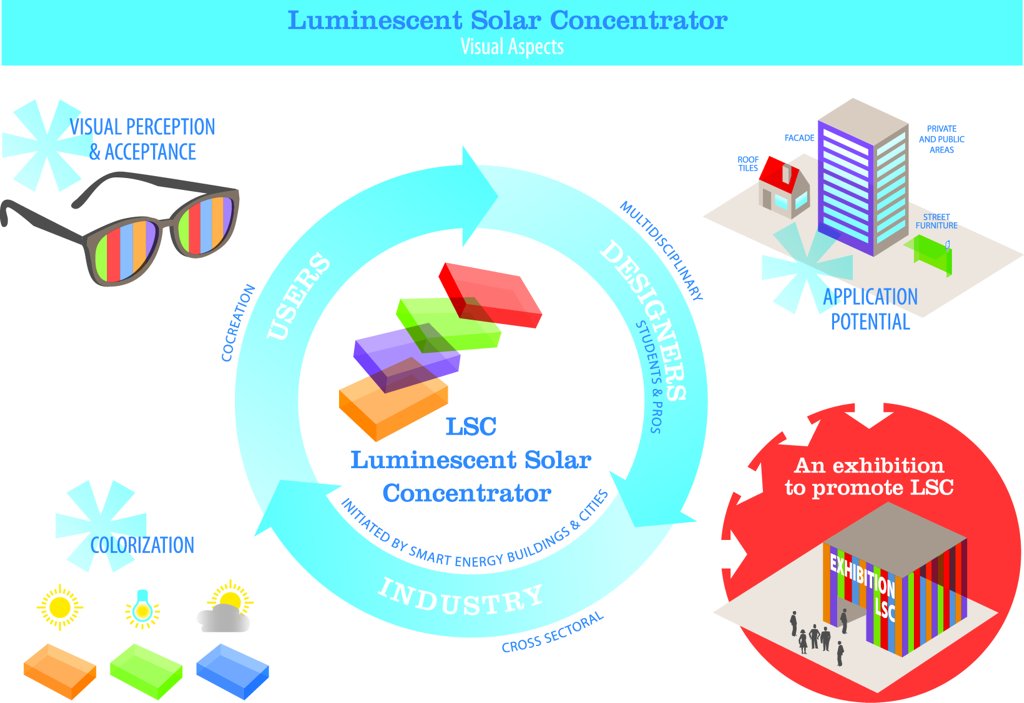 The necessity of a paradigm shift emerged towards sustainable and smart cities due to the significant increase in the energy demand of buildings. The challenge is to increase renewable sources in the energy mix while designing aesthetic environments. Therefore, renewable energy technologies that can be well integrated in urban areas represent a great opportunity to help overcome this current challenge.
Smart energy, energy efficiency and use of renewable sources are key aspects to be considered nowadays and many innovative technologies need further exploitation to be commercially viable, such as the luminescent solar concentrator.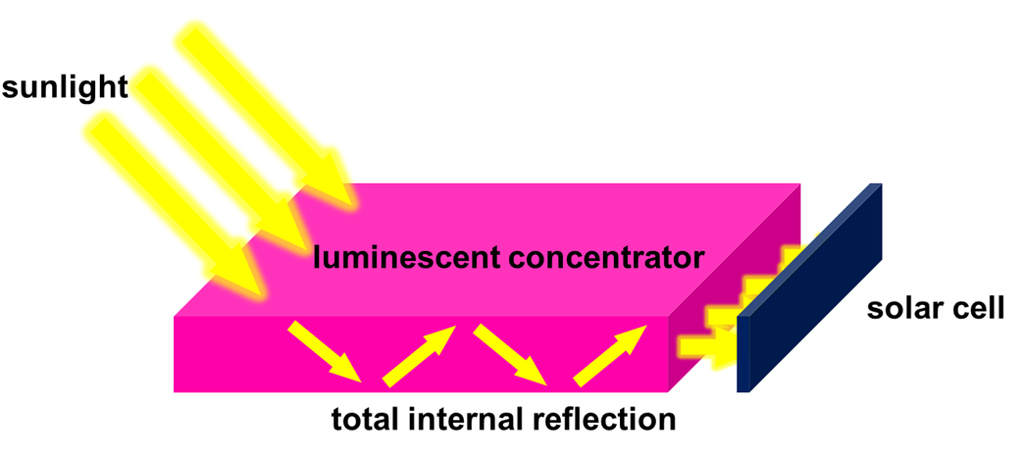 Even though, the LSC offers many advantages over existing technologies, it has not yet been commercialized.
luminescent solar concentrators (LSCs) was initiated in late 1970s; these first experiments aimed at solar energy conversion with florescent collectors to be used at greenhouses (Weber & Lambe, 1976; Goetzberger & W., 1977). Due to the shift from fossil fuel to renewable sources for energy generation and the emergence of solar energy technologies to improve sustainable development; research on LSC gained importance as it is a promising technology for integrated energy generation solutions in urban spaces. The working principle of LSC has not been changed from late 70s until now; nevertheless the improvements of luminescent materials, solar cells as well as theoretical studies renewed the interest in the LSC technology. Several configurations with different dyes, mirrors, reflector coating and PV types have been investigated to increase the electrical performance. Furthermore various research groups throughout the world, including TU/e (Debije & Verbunt, 2011), have been investigating the energy performance of the LSC modules in order to create value that is feasible and competitive in the built environment market. 
To create value, the product type is as important as the energy performance. This means we should think of designing products benefitting from the appearance of LSC while generating some energy. It was necessary not to see the electricity generation as the main target but an additional value. 
Before selecting a product idea for further development, we followed a participatory approach to generate ideas about the possible application areas of the LSC device. Two co-creative workshops and an open innovation survey were executed to gather ideas about the applicability and visual perception of LSC with the participation of the SEB&C trainees, employees of Heijmans, two freelance designers and 83 surveyors.
Looking at the results gathered during this co-creative process, it can be stated that, participants perceive LSC as a technology that will help integrate renewable energy generation in urban areas. Exterior façade cladding, window glazing, public transportation waiting area, shading device and street lighting are some of the examples of application areas proposed by the participants. All the generated ideas gave us guidance to develop design concepts for three different LSC-based products, which have different value propositions for the built environment. One of these proposed design concepts was a small scale urban greenhouse that provides herbs and plants while generating some energy for its own use (lighting and water pumping for irrigation). This concept was called Re(d)Garden which was designed to work as a community garden in urban spaces. This design aimed at creating a social space that can be located at areas lacking vegetation while contributing to renewable energy generation, urban farming and rainwater harvesting to cope with the extreme rainfall events and floods. 
The challenge is to increase renewable sources in the energy mix while designing aesthetic environments.
As a result of the explorations, we managed to develop LSC-based product concepts for various market segments. We can say that LSC-based products can be economically feasible with the integration of not energy intensive functions. If the technical performance of the LSC device is improved, we can expect to see LSC-based products in the energy and built environment markets in the near future.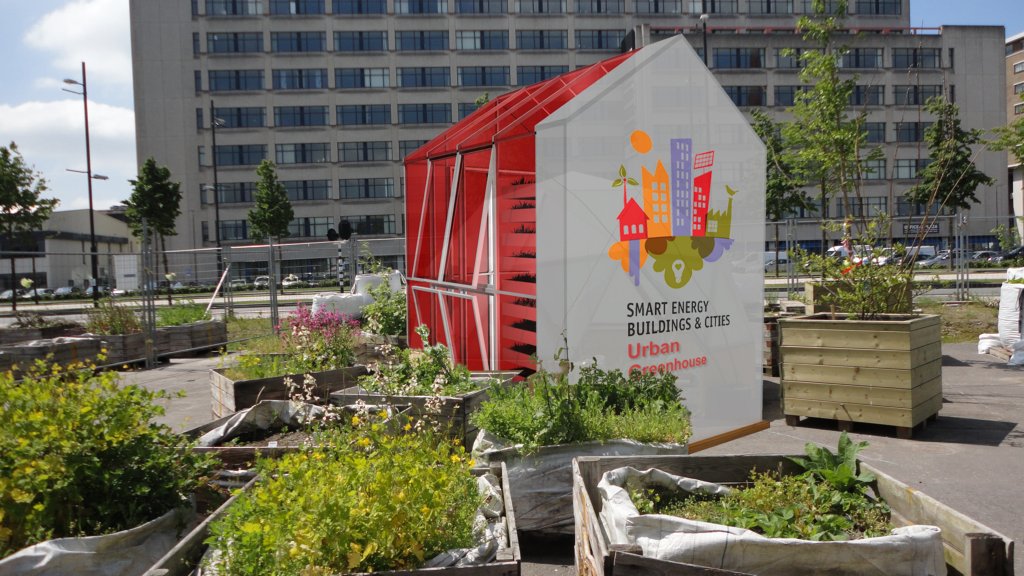 References
[1] W. Weber and J. Lambe, "Luminescent greenhouse collector for solar radiation," Applied Optics, vol. 15, no. 10, pp. 2299-2300, 1976.
[2] A. Goetzberger and G. W., "Solar energy conversion with fluorescent collectors," Applied Physics, vol. 14, no. 2, pp. 123-139, 1977.
[3] M. G. Debije and P. P. C. Verbunt, "Thirty Years of Luminescent Solar Concentrator Research: Solar Energy for the Built Environment," Advanced Energy Materials, vol. 2, no. 1, pp. 12-35, 2011.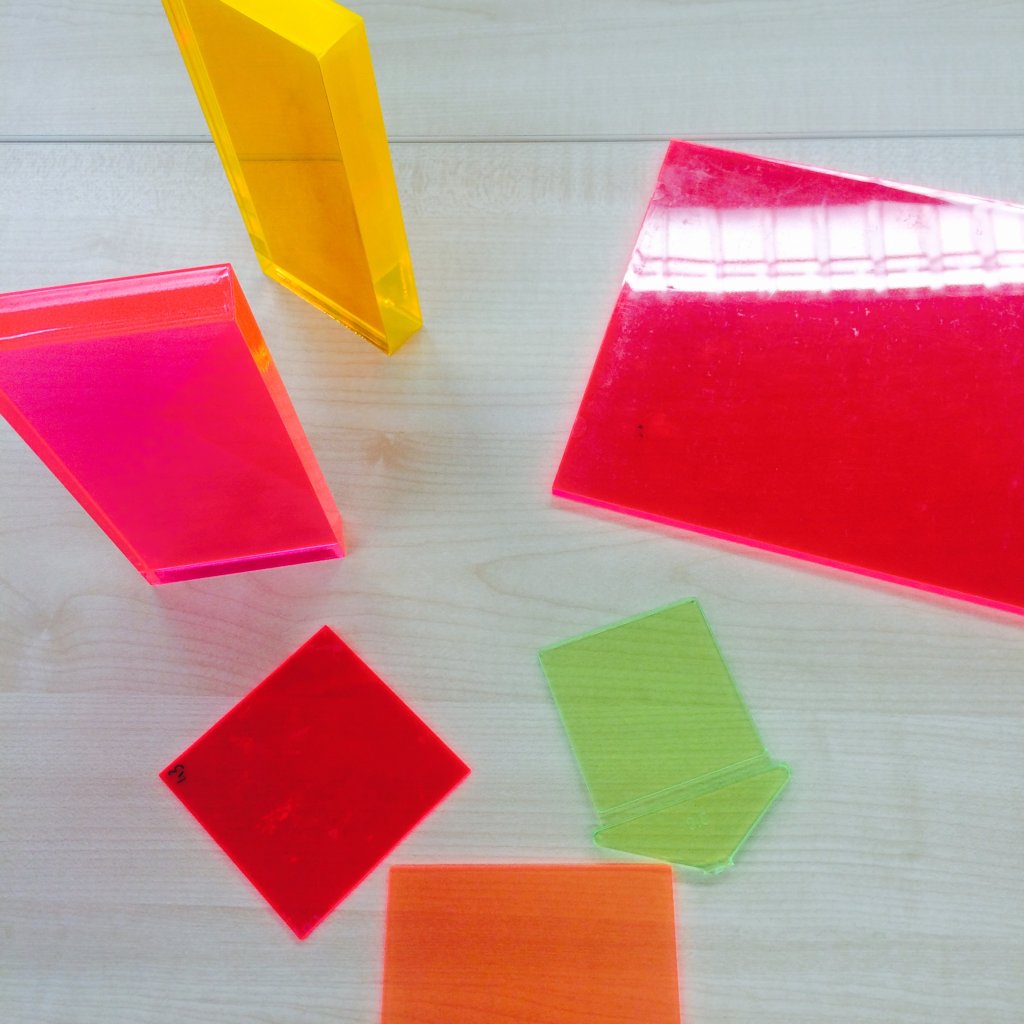 MSc. Tugce Tosun-Uslu
Eindhoven University of Technology – Smart Energy Buildings & Cities
Eindhoven University of Technology
Prof. dr. ir. Jos Lichtenberg, Dr. Michael Debije
Heijmans Technology 
Alma Krug, Stijn Verkuilen