Despite the availability of various monitoring mechanisms such as measuring temperature, water content, soil nutrients, very little is leveraged for sensing applications in the agriculture and horticultural sectors. 
Some of the current mechanisms to observe crops or vegetation is through remote sensing or high sensitivity cameras installed on drones. However, these methods require more hardware cost and sometimes are too hardware intensive to be used by every farmer. Also these techniques can be said to be of more observatory in nature in the sense that they observe change in plant conditions from a distance rather than real-time sensing of the processes inside the plant.
Recent advances in nanotechnology, microfluidics, optics, and spectroscopy offer many opportunities to develop reliable on-site real-time monitoring techniques. This has the benefits for early detection of plant stress, particularly water deficiency, measurements of soil chemistry, automated fertilizer applicators, detecting chemical contaminants and disease causing micro-organisms.
The use of radio waves to detect the plant health conditions offer unique advantages. Due to the longer wavelength compared to optical systems, radio waves (millimetre waves) can be seen through heavy dustiness, fog, as well as in places with heat sources where infrared sensor systems do not work. As have been seen over the years in cellular applications, the radio frequency hardware can be made both area and cost efficient.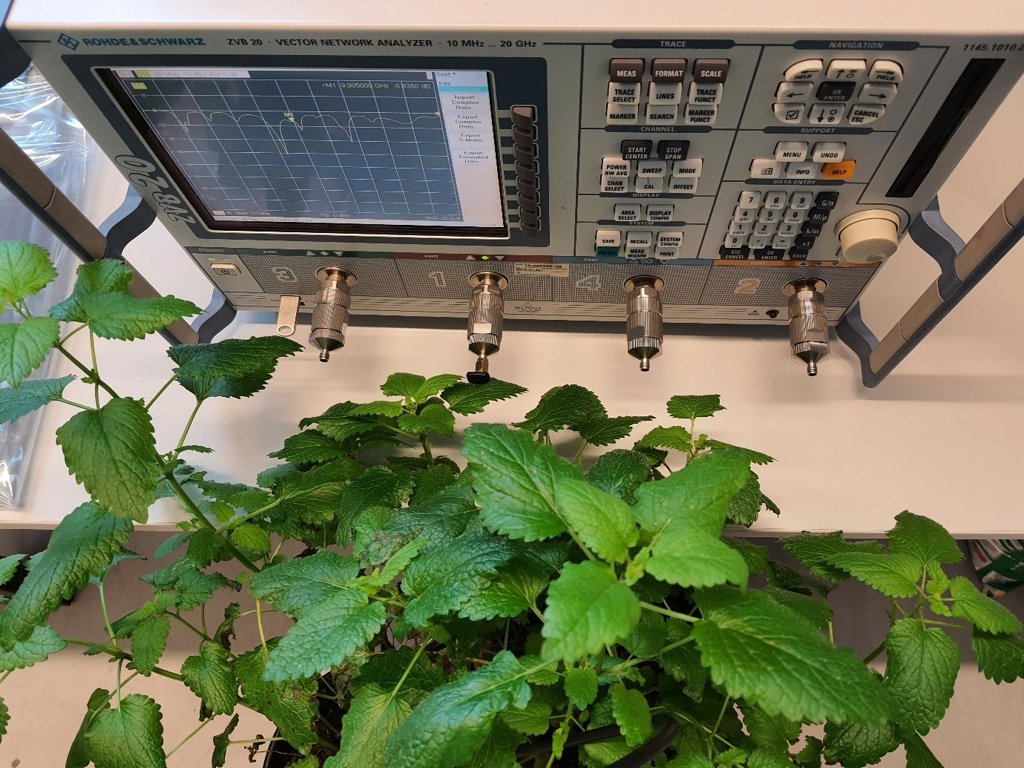 Photo: A tiny 2.4 GHz antenna with dimensions of 19.8mm*14.3mm*16.4mm used for the laboratory tests  
Thus, within the Integrated Circuit Design (ICD) Group at University of Twente it was decided to take up the challenge to investigate possibilities of developing a miniaturized, highly-integrated antenna-based sensor for plant and soil monitoring by listening to the radio signals. Different types of antenna are used in supporting ultra-wideband wireless sensor devices, like Bluetooth or Wifi to communicate with plants in Radio Frequency (RF) laboratory of ICD Group (photo). Currently this is a proof-of-concept monitoring system in the lab to monitor the plant water content to indicate when it is in distress.
However, in the near future we envision to make a portable, flexible and cost-efficient version of such sensing system that can be hand-held by every farmer, like a cellphone that can tune to the radio frequencies transmitted by plants. By tuning to different radio frequencies, we would be able to listen to the plant's health condition and distress signals with regard to deficiency of various nutrients other than water. In long term Plantenna research, such data can be of immense use for farmers to make decisions for improving plant health and hence crop yield.