As hydrologists we are interested in the interaction between plans and the water cycle. We traditionally look at plant transpiration,  the interception of precipitation by leaves, or detection vegetation water stress. However, new global environmental challenges also come with new roles for plants.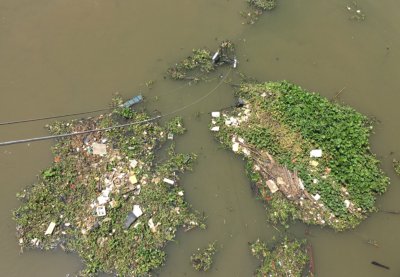 Plastic pollution is an emerging hazard due to its negative impact on ecosystem health and human livelihood. Land-based plastic waste is transported by rivers towards the coastal zone. During one of our sampling campaigns in the Saigon river, Vietnam, we found that most of the plastics are not free-floating. In fact, they all seem to get stuck in water hyacinths (Eichhornia crassipes). The water hyacinth is an invasive species originating from the Amazon. By now they can be found in almost all (sub)tropical rivers around the world.
Photo: Typical example of a water hyacinth in the Saigon river that has entrapped all kinds of plastic, ranging from cooling boxes to flowerpots.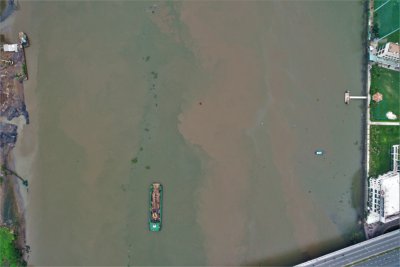 Although they are often seen as a nuisance, they seem to be extremely effective in capturing plastic waste. Preliminary data we collected in the field suggest that up to 80% of the plastic pollution is entrapped by hyacinths!
Photo: Plants and plastic seen by a drone at 100 meters altitude. The hyacinths can still be seen from space, because they are very green compared to the surrounding water.
We are now working on two ideas to use this finding. First, hyacinths can be seen by satellites from space. Monitoring hyacinths can therefore be a potential effective way to identify plastic pollution hotspots in rivers. Second, if we can catch and take out the water hyacinths at strategic locations, we can probably also remove a considerable proportion of the plastics before they reach the sea. The plants themselves can be used to make sustainable fuel, handicrafts and furniture. Again, plants are playing a crucial role in solving a global environmental challenge.